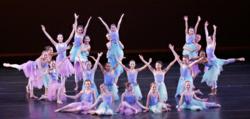 White Plains, NY (PRWEB) March 05, 2013
Steffi Nossen School of Dance (SNSD) is once again gearing up for Benefit Week, April 1 – April 6. The three day dance concert series includes two nights of Community Concerts culminating in the Benefit Concert, a gala fundraiser featuring the school's top ensembles. Attendance at Community Concerts is free for clients of local social service and community organizations.
The Steffi Nossen Dance Foundation has long been at the front of the kick line when it comes to strengthening community relationships. Committed to the idea of "give, give, get", the non-profit SNDF expresses their altruistic spirit through annual Benefit Week Community Concerts. Before turning their attention to the gala Benefit Concert performance and their own fundraising efforts, Steffi Nossen Dance School students share the joy and enchantment of dance with clients of many of Westchester's most active community service groups. The audience at the April 4th and April 5th Community Concerts will include clients of Westchester ARC, The Osborn, Westchester Jewish Community Services, Ossining's Sunshine Children's Home, Boys & Girls Club of Northern Westchester, The Village of Rye Brook Community Center and Port Chester's Young Adult institute among others.
"Steffi Nossen was founded on the belief that everyone should have the chance to experience dance," said Jeannie Aplin, SNSD Executive Director. "Special needs or challenges, whether they be physical, mental, or socioeconomic, should not stand in the way of anyone's desire to express themselves through movement. We seek to share this joy of expression through our work with local organizations and community outreach — an important responsibility we emphasize with all of our students."
The culmination of Benefit Week performances will be the Foundation's annual Benefit Concert taking place on Saturday, April 6 at 8:00p.m. The Concert allows friends, family, and community members to show their support for the Foundation through various sponsorship opportunities, ticket sales, and a silent auction.
Tickets to the Community Concerts and the Benefit Concert are available to the general public. Prices for the Community Concerts are $15 for adults, $10 for students and seniors. Benefit Concert tickets range from $45 - $150. All tickets can be purchased online at http://www.steffinossen.org or by calling 914-328-1900.
About Steffi Nossen Dance Foundation:
The Steffi Nossen Dance Foundation, formerly the Dance in Education Fund, is a not-for-profit dance advocacy and community outreach organization, which seeks to foster the arts in Westchester County. The Foundation supports and promotes arts, allowing for dance education and performances to be available to broad and diverse populations. Through significant artist support, outreach classes and free performances, the Foundation introduces dance to traditionally underserved children and adults. Through the support of the Foundation, the Steffi Nossen School of Dance enables all students, including those with special needs, the opportunity to participate in their extensive programs and classes in a non-competitive environment. A generous financial aid and scholarship program supports those with significant economic challenges. With a sterling reputation in the industry and a rich 75-year history, Steffi Nossen is a leader among dance schools, focusing on the growth of students' mind, body, spirit, and character.