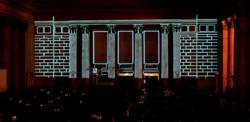 "The experience of seeing it in person was just jaw-dropping, it exceeded my wildest expectations." -Erin Bauer, Chair of the Chicago-Kent 125th Anniversary Committee
Chicago, IL (PRWEB) March 05, 2013
Chicago Projection Mapping (CPM), a Chicagoland-based content and 3D projection company, made Chicago projection history at Union Station for IIT Chicago-Kent School of Law's 125th Anniversary Gala. Video of the event is available from Chicago Projection Mapping's website, as well as Youtube. The six minute display was a dazzling cap to the night, pulling inspiration from sources including the Supreme Court, the Chicago city skyline, and Union Station's own north wall. Using the iconic architecture of the Union Station great hall helped create vivid and memorable visual moments, including standout scenes where the wall "assembled" itself, then later collapsed, revealing the city behind it.
The show extensively incorporated 125 years of past, present, and future legacy of the school into the over 3,200 square-foot display; from glowing lasers that traced each individual brick of the wall, to motion portraits of the school's founders, to a fireworks display across the ubiquitous Chicago skyline, to an enormous flock of butterflies that passed over the scene and crowd. Kent was thrilled to bring such a high-end production into their commemorative event, and feedback from event attendees has been exceptionally positive.
"We've gotten amazing letters from our attendees all week," said Erin Bauer, Chair of the IIT Chicago-Kent 125th Anniversary Committee. "The experience of seeing it in person was just jaw-dropping, it exceeded my wildest expectations."
As the Chicago Tourism Board has recently proposed light shows and displays on city buildings and bridges, this display sets Chicago Projection Mapping among the city's best talent for projection mapping. Including large events and architectural mapping, the CPM experience is perfect for product launches, trade shows, agency media, digital billboards, and indoor/outdoor presentations. For inquiries or a free quote, please email info(at)ChicagoProjectionMapping(dot)com.
About Chicago Projection Mapping: Based in Chicago, IL, Chicago Projection Mapping is a full service content creation and 3D projection mapping company, serving the corporate, event, meeting, and convention sectors. For more information, please visit http://www.ChicagoProjectionMapping.com, or call 630-620-0000.