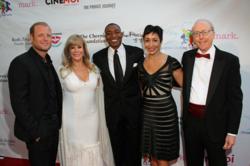 "We are so proud to honor these individuals," said Daphna Ziman, Founder of Children Uniting Nations.
Los Angeles, CA (PRWEB) March 05, 2013
Children Uniting Nations (CUN), a Los Angeles based premier organization that focuses on advocacy/awareness and provides academic and community based programs for at risk and foster youth, once again drew some of Hollywood's brightest lights to its major annual fund-raising Academy Awards-watching party on an exquisitely tented and glamorized tennis court where the legendary superstars of the 20s, 30s, 40s and 50s once cavorted.
Glittering with the smiles and laughter of such current stars as Dennis Quaid (who also performed with his rock band The Sharks), Miki Howard (who also performed), Oscar winners Louis Gossett Jr., Martin Landau and Maximilian Schell, Oscar nominees Bruce Davison, Rip Torn, and John Savage and beauties Radha Mitchell and Penelope Mitchell as well as Alyssa Milano, Barbara Carrera and Mel B., the evening carried the spirit of the location's starry history when Jimmy Cagney and Errol Flynn, Hedy Lamarr and Clark Gable, and the scores of fabled film greats filled the tennis weekends and glittery night time parties when one of Hollywood's founding fathers reigned over the estate and mansion he had created.
Warner, one of the famous brothers who founded the studio that still bears their name, gathered the film industry's top talents and box office stars since the birth of the Academy Awards in the late 1920s. The Warner mansion, lined with George Hurrell portraits of Humphrey Bogart, Marlene Dietrich, Bette Davis, Gary Cooper and the other film legends who have cavorted there over the decades, is also known to be a destination for major politicians and presidents from the U.S. and worldwide.
A haute cuisine dinner by a renowned chef while viewing the Awards telecast and followed by a post-awards party, CUN's celebration has become one of the top glamour stops for stars hitting the evening's major celebrations.
During the evening, CUN honored three major supporters of excellence in foster care, basketball Hall of Fame legend Isiah Thomas and his foundation, Mary's Court with the Lifetime Humanitarian Award; Roderick Sherwood III, Chairman & CEO of Cinémoi North America television network with the Corporate Excellence Award; and Marvin Markowitz of the Marmar Group and Factor's Famous Deli with the Distinguished Service Award. "We are so proud to honor these individuals," said Daphna Ziman, Founder of Children Uniting Nations. "Their passion and commitment to improving the lives of children in foster care have changed the future of so many kids who otherwise would have had lives absent of hope and opportunity."
In keeping with the event's traditional theme of celebrating the great talents of the film industry, the party honored the recent appearance on the American television scene of the Cinémoi North America TV network, long one of Europe's chief presenters of the great Hollywood and
European films. Sherwood, in accepting the tribute, has noted, "We can never have enough opportunities or choices to view that vast treasure trove of films which have filled our lives with wonder and entertainment. This event is on the night of nights for appreciating how motion pictures spawned and popularized by Hollywood, have enriched our lives. Our thrill with Cinémoi is in surprising audiences with vintage to modern films that they love."
Some of the evening's sponsors include The Ziegler Family Foundation, Cinémoi North America, Shangri La Tea, Private Journey Magazine, Lorimar Winery, Moreno Champagne, Arsenal Tequila, Mac Africa Productions and Attorney Patty Glaser: Glaser Weil Fink Jacobs Howard Avchen & Shapiro LLP.
The CUN gift bags included items by major brands such as; Nature's Flavors, Terox Sandals, Whitening Lightning, Calbee North America, Mark Fashion and Beauty, Arbonne Skin Care, Sweet Feet Spray, Quest Nutritional Bars, Swirls Cupcakes and Twisted Silver Jewelry.
ABOUT CHILDREN UNITING NATIONS:
Children Uniting Nations is a proactive non-profit organization created to bring attention to the plight of at-risk and foster youth. CUN's goal is to reach as many children in out-of-home care by offering role-model support, guidance, a sense of community and to promote the importance of an education. CUN matches participants with highly trained mentors that are compassionate, steadfast and have an unconditional desire to give of themselves in order to make a positive difference in the lives of our most vulnerable children.
Pioneered in Los Angeles in 1999 by Founder and Emeritus Chair, Daphna Ziman, the organizations mission is to create loving, tolerant, and capable world citizens. CUN is dedicated to helping children find their way so that they are able to fulfill their dreams. Sadly, children are the main victims of adult difficulties-whether it's financial or political problems, war, lack of education, malnutrition, or carelessness. CUN is dedicated to helping children find a way out of cruelty, neglect and anger and therefore strengthen the leaders of the next generation.
###
Contact:
Rona Menashe
Guttman Associates
romenashe@aol.com