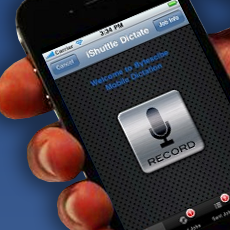 Bethesda, MD (PRWEB) March 05, 2013
The Dictation Source recently released iShuttleDictate, allowing medical professionals everywhere to dictate using an iPhone or iPad. Dictations can be easily uploaded to The Dictation Source's server wirelessly.
The Dictation Source provides medical transcription services to healthcare providers using the latest technology. With its new iOS app, iShuttleDictate, The Dictation Source provides clients with the ability to immediately upload transcripts to transcriptionists without having to connect the device to a PC.
For clients who already have an iPhone, iPod Touch, or iPad, the app saves money, since no separate recording device is required. For clients who do not have one of these devices, an iPod Touch can be purchased for just over $200, which is still cheaper than the cost of a handheld recording device. Best of all, no cell phone service is required to use iShuttleDictate, since recordings can be uploaded using a wireless connection.
All recordings are uploaded to The Dictation Source's Web Shuttle® software platform, which allows for secure uploading and downloading. Once the files are uploaded, The Dictation Source's professionals will transcribe them, providing the final copy in a matter of days or even hours. Clients can designate multiple team members to access the files, helping organizations better manage workflow.
The Dictation Source's iOS app is only the latest method the company provides for transmitting files. Web Shuttle® accepts files from many of the most popular digital recording devices on the market today.
As medical facilities and offices have been forced to reduce staff, many are learning the benefits of outsourcing medical transcription work. By automating the process, The Dictation Source allows businesses all over the country to receive high-quality medical transcription services at a low price. Businesses pay as little as 9.8 cents per 65-character line for The Dictation Source's services. This allows even the smallest facilities to have the same service as a large facility at an affordable price.
Established in 1991, The Dictation Source began by offering services to small practices. Over the years, the company has grown to a full-service company providing transcription services to companies throughout the world. Each of The Dictation Source's principles are experienced healthcare professionals with a combined 60 years in executive healthcare administration.
Because The Dictation Source is owned and operated by registered nurses, clients can be confident that they will receive service specialized to their own needs. The Dictation Source is well-versed in the many regulations applicable to healthcare businesses today, including HIPAA compliance. Clients enjoy 24/7 customer support and a guarantee that transcriptions will be 100 percent accurate.
The Dictation Source also provides a 24-hour turnaround time on stats when needed, in addition to electronic signature capability for documents. Transactions are handled online, which provides faster turnaround time and convenience for busy healthcare professionals.
For more information about The Dictation Source's services, medical professionals can set up an appointment to speak with a customer service operator. For more information about iShuttleDictate, click here.