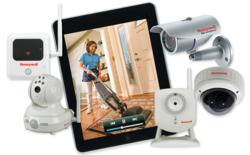 It's like using the TV remote, it's that simple.
Orem, UT (PRWEB) March 08, 2013
Counting down the top ten myths surrounding home security alarm systems, what is real and what is really a myth.
MYTH #1: A home security system costs lots of money.
This is probably the most well-known home security myth. Many companies offer their customers all of the security hardware, for free. That means the panel, motion sensors, glass break sensors and in home video are free. The only thing people pay is the monthly monitoring fee. Do research first to find out what companies offer the best price.
MYTH #2: A security system requires a long contract.
While it's true many companies do have contracts, often people can get a system without entering into year-long contracts.
MYTH #3: A security system isn't needed because there haven't been any home invasions in the neighborhood.
This is an unfortunate misconception. Burglars are always looking for a target, no matter where the house is located. Also, smoke detectors and carbon monoxide detectors come in most security packages, and those are critical to have in any home.
MYTH #4: The insurance company covers a home invasion, therefore there's no need for protection.
While the insurance company may cover a home intrusion, the purpose of a security system is to prevent someone from breaking into the home, in the first place. Many insurance companies also offer a discount, for people who have security systems.
MYTH #5: The response times of the police are slow.
With a security system, the police, or firefighters can be at your house within minutes.
MYTH # 6: Pets that run around the house will trigger a false alarm.
Most, if not all systems can be programmed around pets, so there aren't any alarms caused by them.
MYTH #7: A home phone line is required to have a system.
Most security systems are moving to wireless systems. They're installed without wiring and monitored through a cell device. This makes things much easier.
MYTH #8: Burglars know how to disarm systems.
With a wireless system it's almost impossible for a burglar to disarm the system.
MYTH #9: If something on the system breaks, it can't be replaced.
Alarm companies work with their customers to send out technicians if there is any faulty or broken equipment.
MYTH #10: Learning to use a system is too hard.
With advances in technology it's never been easier to use a system. Within ten minutes people can learn how to use their system effectively and efficiently.
"Learning to use a security system couldn't be easier," said Mason Moyer, a home security specialist. "It's like using the TV remote, that simple."
The home security myths have been debunked. Having a home security system is a smart choice in the protection of families everywhere.