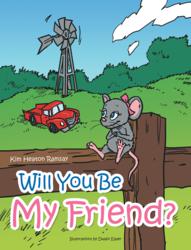 DALLAS, Texas (PRWEB) March 06, 2013
In wake of cyber-bullying, bullying in schools and unnecessary violence, Kim Heaton Ramsay was inspired to educate young children about the differences they see in people.
In Ramsay's new book, Will You be My Friend?, she provides a fun, yet educational children's book for every family's bookshelf. Preaching tolerance, this book uses colorful illustrations to teach children about acceptance of the physical, cultural and religious differences they see in friends and schoolmates.
Using Marley Mouse, Ramsay depicts the mouse's journey of making friends with animals of all shapes, sizes and colors. Will You be My Friend? is an anti-bullying book that is a necessity in the classroom and family room.
Will You be My Friend?
By Kim Heaton Ramsay
ISBN: 978-1-47729-503-8
Pages: 15
Price: $15.00
Available at http://www.authorhouse.com, http://www.amazon.com and http://www.barnesandnoble.com
About the author
Kim Heaton Ramsay graduated from Texas Tech University. She is currently a registered dietitian and hopes to publish future children's books on nutrition. She has two children and lives in Keller, Texas.