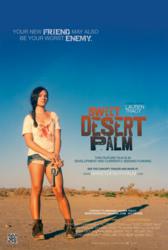 With so many filmmakers working independently, we must adjust our business models in order to build careers.
Los Angeles, CA (PRWEB) March 06, 2013
Lauren Tracy, a 25-year-old film writer and director, has been invited to speak at the 2013 NYU Fusion Film Festival as part of the "Roundtable: Independent Women" on Saturday, March 9th. Now in its 10th Anniversary, The Fusion Festival is a premiere student festival showcasing the work of emerging female filmmakers. As a guest speaker, Lauren will be in the company of Oscar Nominated Lucy Alibar, co-writer of Sundance's breakout hit "Beasts of the Southern Wild". Lauren will discuss her own script in development entitled "Sweet Desert Palm" and how she plans on standing out as a first-time feature director.
On Developing her Debut Feature Film Sweet Desert Palm:
Lauren and her team have launched the "Sweet Desert Palm" website promoting her debut feature screenplay. Along with Bruno Gunn of "The Hunger Games: Catching Fire" Lauren, her producer, and over 30 talented production crew members, actors and other creatives including her father's design firm Cambridge Design Group, are presenting a concept trailer, poster, story synopsis, Lauren's filmmaker bio and more.
Battling the Current Independent Film Environment:
Lauren and her peers create films in a briskly evolving industry where Chris Hyams estimates that about 50,000 feature films are being produced each year. At NYU Lauren will address the idea of staying observant, asking questions and paying close attention to the business aspect of moviemaking. She reflects, "Right now there are fewer big studio doors opening for independent filmmakers but there are lots of small ones...It's about going with your gut and your research and then walking through the door that suits you best."
Independent Film Business and Financing:
Lauren rejects the trend of blindly accepting online film financing and festival distribution models, "Crowd-funding may be good for small projects as there is no financial debt and therefore less risk. However, the likelihood of being accepted to well-known festivals and getting distribution is like playing the slot machines. With so many filmmakers working independently, we must adjust our business models in order to build careers. I plan to develop a financial reputation that keeps industry professionals and investors coming back." Lauren understands that all industries, including the independent film industry, are about making money. "Having a great story, compelling characters, amazing actors, knowing how to shoot, direct and edit is all well and good but equally, if not more important, is forming a strong business plan."
About Filmmaker Lauren Tracy:
Originally from Acton, MA, a suburb of Boston, Lauren studied film at Rochester Institute of Technology where in 2008 she and her father, a Creative Director, co-founded X-Factor Filmmakers. The organization's purpose is to support and promote aspiring female filmmakers through sharing Lauren's experiences as an independent feature filmmaker.
For more information contact:
Lauren Tracy
978.590.2402
http://www.sweetdesertpalm.com