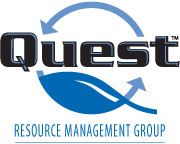 Frisco, TX (PRWEB) March 05, 2013
His knowledge and applied experience of the EPA's food waste recovery program earned Quest's director of retail services the honor of being selected as a keynote speaker at the EPA's sustainable material management initiative workshop held in Austin, Texas on February 26th. The EPA is targeting specific sectors to demonstrate sustainable material management strategies including: the Federal Green Challenge, the Food Recovery Challenge and the Electronics Challenge.
Ali Zandi, Quest's director of retail services, had the privilege of speaking at the EPA Region 6 Food Recovery Workshop where he provided historical data on food waste in the United States and covered measurable steps to follow the EPA's food recovery hierarchy, which challenges participants to feed people not landfills.
"This was a tremendous opportunity to share best practices, current technologies, successes and failures with government, private enterprise and the general public," said Mr. Zandi. "Through this conference we were able to help establish new relationships and provide our subject matter expertise for those entities interested in reducing waste, increasing food donations, and diverting was from the landfills."
The EPA reaches out to industry experts like Frisco, Texas-based Quest Resource Management Group to deliver the message to businesses, universities and government entities with the goal of demonstrating measureable results in moving the United States to a more sustainable future. More information on the sustainable material management initiative can be found here on the EPA's website: http://www.epa.gov/smm/
About Quest
Quest Resource Management Group is a full service environmental consulting and management company, headquartered in Frisco, Texas. Quest helps Fortune 500 companies to maximize profits and mitigate risks, while minimizing their ecological footprints. Quest clients span across all key industry segments, including food services, hospitality, healthcare, manufacturing, construction, automotive aftermarket and fleet industries. Quest provides North American clients with comprehensive sustainability programs, innovative recycling solutions and proven environmental protection.
Quest prides itself in delivering targeted solutions exclusively tailored to the needs of each respective client. Quest also offers Return on Investment (ROI) and Return on Sustainability (ROS) based road maps to help clients design actionable programs for managing RFPs, defining operational protocols, creating and implementing training programs, and defining best practices. Quest's Sustainability Intelligence™ Dashboard helps clients improve decision making by extracting greater insights through unsurpassed business intelligence.
###