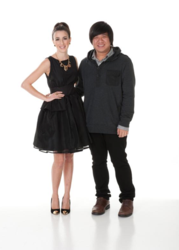 Los Angeles, CA (PRWEB) March 05, 2013
Prom is one of the most significant events in high school, and for over ten years the style experts at FIDM/Fashion Institute of Design & Merchandising's FashionClub.com have been predicting prom fashion trends, reporting on celebrity-inspired prom hair and makeup, and creating original prom beauty tutorials. This year, Art Director Harriet Grant challenged FIDM Students to upcycle a thrift store gown into a prom dress for a celebrity, featuring this year's hottest prom fashion trends.
In the spirit of the 1980s classic movie Pretty in Pink, where Molly Ringwald's character refashions a plain dress into a prom gown, the Pretty in Pink Prom Challenge tasked five top fashion design students to design a dress for a young celebrity, while channeling a past Hollywood star as their muse. The themed looks included:
The Ingenue – A little black dress with a peplum, inspired by Audrey Hepburn, and designed by David Lee for Emma Watson.
The Class Act – A red illusion dress inspired by Grace Kelly, and designed by Danica Ybanez for Taylor Swift.
The Bad Girl - A short, lavender dress with spiked embellishments at the shoulders, inspired by Liz Taylor, and designed by Angie Martinez for Mila Kunis.
The Femme Fatale – A long grey and white dupioni silk dress with beaded bustier, inspired by Veronica Lake, and designed by Jarret Levin for Blake Lively.
The Boho Princess – A romantic gown with a sheer overlay and lace tiered bodice, inspired by Lisa Bonet, and designed by Lizbeth Robles for Zoe Kravitz.
FashionClub.com features these great looks as well as Prom DIY videos and a Polyvore styling tool where visitors to the site can design their own prom outfits. Prom-ready red carpet looks for hot Hollywood couples are waiting to be styled. There is also a fun quiz about celebrity style icons.
The annual Prom Advice Scholarship Competition kicks off on March 1, 2013. High school students can enter for a chance to win one of two full-year scholarships to attend FIDM. With a deadline of May 15, 2013, entrants are asked to sketch a prom fashion line of their own creation or design a prom boutique.
FashionClub.com is an online teen magazine sponsored by FIDM, and the only magazine of its kind to be sponsored by a college. FashionClub.com features the hottest teen fashion and jewelry trends, the latest looks from the runway, prom and homecoming style advice, DIYs, make-up tips, beauty how-to videos, creative career advice, fashion quotes, cute clothes, and the latest news about FIDM, its events, majors, and alumni.
With four dynamic California campuses, FIDM/Fashion Institute of Design & Merchandising is the premier west coast fashion design college, educating for careers in fashion, graphic design, interior design, and entertainment. FIDM's graduates include renowned fashion designers like Monique Lhuillier, Emmy® and Academy Award® award-winning costume designers, top fashion industry executives, and entrepreneurs.