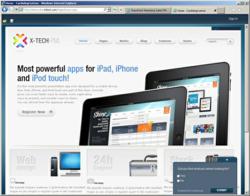 Intlock is excited to participate in this amazing event. We have already prepared some innovative new demonstrations, people are going to enjoy
Boston, MA (PRWEB) March 06, 2013
The Intlock team is pleased to announce that it will be sponsoring and presenting at the SharePoint Evolution Conference held in London from April 15th to the 17th. This is an exciting year as the new version of SharePoint 2013 has been introduced, and the list of guest speakers is phenomenal; the opportunities for cooperation, learning and networking are limitless.
Intlock will be presenting the new features and tools of CardioLog Analytics and demonstrate how it extends the capabilities of SharePoint 2013. Some of the new features that will be showcased at the event include CRM integration, Atlas media integration, and the Voice of Customer engagement package.
This is the 5th annual Conference of its kind, hosted by SharePoint's Premier Educators Combined Knowledge. The three day agenda, contains everything from over a 100 Sessions delivered by Global SharePoint Experts, Microsoft Leaders and MVP's, covering Business and Technical Development, Information Worker, Community and Case Study Tracks, Ask the Experts sessions, and superb entertainment and exhibitions. The Intlock team is looking forward to meeting with some of our many European customers and partners, including ArcelorMittal from Luxemburg, ATR from France, Man Investments and Afren Energy from the UK. Intlock representatives will be available to discuss and advise which are the best tools and solutions for SharePoint.
"Intlock is excited to participate in this amazing event. We have already prepared some innovative new demonstrations, people are going to enjoy." Bella Gogova, Marketing Manager at Intlock.
To learn more about the SharePoint Evolution Conference, please visit their web site at: http://www.sharepointevolutionconference.com/index.html
To learn more about Intlock events and webinars, visit our Events page at:
http://www.intlock.com/intlocksite/about/events/default.asp
About Intlock
Intlock was founded in 2005. Ever since, it has been a leader in analytical solutions for SharePoint Intranets and Internet websites. It was the company's flagship product, CardioLog Analytics that set Intlock apart and put it ahead of the competition. CardioLog provides organizations with insights on how their SharePoint portal is being used and helps optimize the portal. As organizations started to expand, so did the use of SharePoint to public facing websites. A demand grew for marketing tools designed for SharePoint, which lead to the release of the SharePoint Marketing Suite that includes a wide range of marketing solutions for enterprise-level websites.
Today, Intlock products support all of the SharePoint versions, including the new 2013 edition. They offer a variety of insightful features and tools that help optimize portal and site productivity and maximize the ROI.
Intlock, based in Boston, Massachusetts, has offices and partners throughout the world. Some of the customers utilizing these products are large worldwide enterprises, such as Applied Materials, Fidelity Investments, and US Department of State. We also offer a variety of packages for small business and NGO's.
# # #
If you would like more information about this topic, please contact Iva at +1-617-500-8461 (US) or email us at info(at)intlock(dot)com or iva(dot)isakov(at)intlock(dot)com.