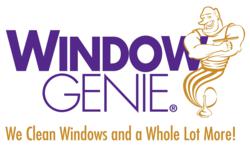 Window Genie seemed to value integrity, teamwork, excellence and presented itself as a company that believes in being of service.
Cincinnati, OH (PRWEB) March 05, 2013
It's that time of year again. The days are getting longer, and it's a good thing too! There is suddenly so much to do around the house. Spring cleaning can be a daunting task without a proper game plan. Many homeowners are able to tackle the tasks inside their home, but how many are able to get on a ladder and completely clean their own windows, siding and gutters? How many homeowners are comfortable doing that, and furthermore, have the tools and supplies to do so? Residents and small businesses in the Salisbury, MD area don't have to worry about those chores this spring. Window Genie announces the grand opening of their newest location, opening in Salisbury, MD on Monday, March 11. Window Genie is the Cincinnati based franchise of home services known to "Clean Windows and a Whole Lot More!" A whole lot more includes window tinting, gutter clean-out and pressure washing.
Before joining Window Genie, Mannion worked as a General Manager at a Red Lobster in Maryland for 23 years. He said he decided to make a change because, "The job became very demanding, I was working an increased number of weekends and holidays. I was becoming a ghost in my own life. My kids, my grandkids; no one ever saw me. My family had to come first, so I decided to look into owning my own business, something I had thought about for years." Mannion quit his job to pursue a career in which he could control his own success and happiness.
Mannion's process began as he casually perused the Franchise 500 list on Entrepreneur.com. He always thought he would go into the restaurant industry since that was his background, but quickly decided against it. He was looking for something that was a niche business that would give him the work-life balance he so desperately needed. "After evaluating what my criteria and needs were, I was able to narrow my options to just a few franchises, Window Genie being one of them," Mannion said.
During his discovery process, Mannion said what stood out to him about Window Genie was, "Window Genie seemed to value integrity, teamwork, excellence and presented itself as a company that believes in being of service. These were all things that were very important to me." Mannion also said the business model was attractive because of the multiple streams of revenue and potential for regular, repeat business. He said his background in the service industry gave him confidence that he would be able to build a loyal customer base. "I just felt I was always going to be set up for success at Window Genie. They put so much effort into marketing, customer satisfaction and professionalism. No similar business in my area seemed to have a solid game plan like Window Genie; ultimately Window Genie just felt right. Speaking to existing Window Genie owners was a completely positive experience, they all said they were happy with their decision and spoke highly of the corporate staff and the support they offer to the system."
About Window Genie:
Window Genie is the nationally ranked franchise of home services offering window cleaning, window tinting, pressure washing and more. Franchise opportunities available nationwide. To learn more about Mike Mannion and Window Genie of Salisbury, contact Mike at mmannion(at)windowgenie(dot)com or call (410) 546-6333
###