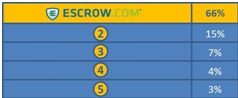 As one of few pure play escrow services, Escrow.com has constantly innovated to meet the needs of domain name owners.
Orange County, CA (PRWEB) March 06, 2013
The 8th annual Domain Name Wire Survey results are in and for the sixth year in a row, domain investors chose Escrow.com as their escrow service of choice. While earning an astounding 66% of the votes this year (up from 60% in 2012), Escrow.com continues to prove itself as the undisputed leader in domain escrow services.
The survey, presented by Domain Name Wire, a leading news source for the domain name industry, had over 500 participants who voiced their opinion about the state of the domain name industry and its service providers. "As one of few pure play escrow services, Escrow.com has constantly innovated to meet the needs of domain name owners," says Andrew Allemann, Editor at DomainNameWire.com. He adds, "A case in point is the broker tool they released last year that helps domain buyers, sellers and brokers navigate complex three-party transactions."
Whether you're buying or selling domain names online, Escrow.com is a name you can trust. Escrow.com is a government licensed, audited and secure third-party that safely holds a Buyer's payment in a trust account until the entire transaction is complete. Buyers can be confident the domain will be registered in their name and Sellers can be sure they'll be paid.
"Being chosen again as the top domain escrow company further exemplifies our commitment to the domain community," says Brandon Abbey, President and Managing Director at Escrow.com. He adds, "Additionally, it is a tribute to our customer service organization which I consider to be at the heart of our success. Our goal has always been to provide the safest and most secure escrow service available and we look forward to launching new and exciting products that keep us at the top of our industry for years to come."
Escrow.com would also like to congratulate the other category winners, including but not limited to, Go Daddy, voted the top domain registrar; InternetTraffic, voted the top domain parking company; and DNForum, voted the top domain forum.
About Escrow.com
Headquartered in Rancho Santa Margarita, CA, Escrow.com, a privately held company, has pioneered the process of online escrow services. The Company, founded in 1999 by Fidelity National Financial, has established itself as the leading provider of secure business and consumer transaction management on the Internet. All escrow services offered on this Website are provided independently and exclusively by Internet Escrow Services(SM) (IES), one of the operating subsidiaries of Escrow.com. IES is fully licensed and accredited as an escrow company and is subject to compliance with all applicable nationwide escrow regulations.