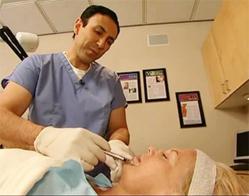 Los Angeles, California (PRWEB) March 04, 2013
According to a February 25, 2013 New York Times report, Botox may be effective beyond its current cosmetic use of paralyzing facial muscles to treat wrinkles. Botox, so the theory goes can deactivate corrugator muscles that produce frowns, making patients perceive themselves to be happier and thereby lessening symptoms of depression. (Go to goo.gl/X2dq7)
"I have never done a study or collected empirical data on the subject," says Dr. Simon Ourian, Medical Director of Epione Beverly Hills, "but it is my experience that Botox does help brighten the mood of some patients. I can't say, however, if it's simply a case of 'looking better and therefore feeling better' or the neuro-chemical explanation offered in the article."
It is not surprising that there may be more to Botox than ironing out lines on patients' faces. In studies on the effect of Botox on depression, the drug appears to be safer and perhaps more effective in alleviating depression than traditional treatments. The effect, according to the article, has something to do with the role of neurological processes in producing emotion. In short, one cannot feel deep happiness if one cannot smile, in the same way as one cannot feel as deeply sad or unhappy if one cannot frown.
This theory is known as the facial feedback hypothesis and it has been proven somewhat through a study where Botox injected to the forehead seems to prevent the brain's amygdala from becoming activated. The amygdala is believed to control intense emotions in humans. The report goes so far as to suggest suggests that Botox may help individuals improve their careers and personal lives. It even hypothesizes that there is a link between chronic disease and anger and depression that might be managed with Botox therapy.
"If a patient were to ask me about using Botox to treat depression," concludes Dr. Ourian, "I'd have to say that all the data is not in and that in an evidence-based practice like mine, I wouldn't advise it at this time."
Dr. Ourian has been a pioneer in laser technology and non-invasive aesthetic procedures including Restylane, Botox, Juvéderm, Radiesse and Sculptra. These treatments are used for the correction or reversal of a variety of conditions such as acne, acne scars, skin discoloration, wrinkles, stretch marks, varicose veins, cellulite, and others. More information about Botox can be found on Epione's website.