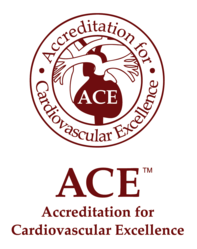 ACE involve[s] leading physicians . . .from the cardiac, surgical and endovascular arena to identify metrics and develop thorough processes for collecting and evaluating data . . . to improve . . . programs."
Charles E. Chambers, MD
Washington, DC (PRWEB) March 05, 2013
ACE is honored to support the quality and data metrics programs for cardiovascular care at ACC.13 and NCDR.13 to be held on March 7-12 in San Francisco, CA. Ralph Brindis, MD, MPH, FACC, FSCAI and Charles Chambers, MD, FSCAI will speak about the future of health care and evolving reimbursement models and what current strategy and tools exist for the cardiac cath lab.
Dr. Brindis participates in the NCDR agenda with two general sessions on Friday, March 8 and another session at ACC on Sunday, March 10:

The NCDR in the Era of Healthcare Reform at 8 am and Public Reporting Gets Personal: Hardball with Rumsfeld and Masoudi at 3:00 pm, March 8, 2013.
Integrating AUC in NCDR: Present and Future during ACC.13 on March 10, 2013 at 1:30 pm.
Dr. Chambers endorses the ACC quality agenda by speaking on:
Cath Lab Accreditation: Pros, Cons and Implications, March 10, 2013 at 2:00 pm.
Each session will emphasize that clinical data is increasingly shared between regulatory bodies and payers in the accountable care environment and evolving metrics demand key quality indicators be met.
As technology and specialties in cardiac and endovascular care continue to develop, oversight becomes increasingly important. Achieving quality patient care offers many advantages and "….cardiac cath labs can benefit from ACE services through the development of an integrated program and a thorough, in-depth review of documentation," states Dr. Chambers. "ACE continues to involve leading physicians and other experts from the cardiac, surgical and endovascular arena to identify metrics and develop thorough processes for collecting and evaluating data that will ultimately assist facilities as they maintain and strive to improve their programs." ACE works to validate methodologies, thereby elevating cath lab performance and supporting quality patient care.
Interested to learn more? Dr. Chambers will be available to answer questions at the ACE booth number N6449 on Monday, March 11, 2013 at 10:30 am. Visit ACE during NCDR.13 and ACC.13 to learn how to take your cath lab from good to great.
About Accreditation for Cardiovascular Excellence
ACE, an independent organization sponsored by the Society for Cardiovascular Angiography and Interventions (SCAI) and the American College of Cardiology Foundation (ACCF), offers independent evaluation and monitoring of facilities that provide cardiovascular care. By reviewing facility and operator performance and comparing clinical decision-making to nationally accepted best practices, ACE peer review and accreditation services plays a critical role in continuous quality improvement programs. Learn more at http://www.cvexcel.org.