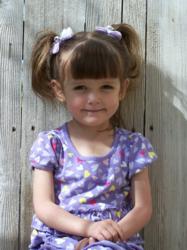 I want to thank you for all your help with the fundraiser for Kylie last year and making her a princess.
Salt Lake City, Utah (PRWEB) March 12, 2013
Millie Flamm a special "Forever Princesses" at the Princess Festival in 2012 was filled with joy when she received a visit from Justin Bieber in a Utah Hospital on his tour stop in January 2013.
Princess Festival provides 400 tickets to charities where the parents are strapped with medical bills and can't afford a 'day of play' for their little ones. Organizers are also highlighting 110 little girls selected by schools and others, to be "Forever Princesses", acknowledging and rewarding them with free tickets and awards for serving others and/or bravely facing hardship and severe difficulties in their young lives.
Another 2012 special guest at the Festival was 6 year-old Kylie Taylor, who was waiting for a heart transplant. On Feb 12, a family friend, Heather Larsen, wrote:
"I want to thank you for all your help with the fundraiser for Kylie last year and making her a princess. I am sorry to inform you she lost her battle last night. She now has wings to go with the most perfect heart. You all were so wonderful. Even though she couldn't make it, she loved all the gifts you sent with us to give her. Thank you again for everything!!!"
Princess Festival teaches young girls how to be a 'caring and sharing' princess while playing in the adventures with Princess role models. "Twice the Fun, Half the Cost (of the California park)" is the promotional tag line of the 2013 Princess Festival to be held at Thanksgiving Point Event Center in Lehi, Utah June 18-29. CEO Ron Hatfield stated that in 2012 the event drew destination visitors from all 50 United States and 3 countries. He said that the organizers expect a 50% increase in attendance for 2013. Princess Festival is the largest Princess Specific Adventure event in America.
Operated by Princess Festivals International, the Princess Festival is entering its 6th year with the introduction of Princess Kadesia, their 5th new princess, and her Hobbyduke mentor Zildy. The Festival will release her adventure in a new novella, "Princess Kadesia and the Blue Boy" and will present each paying guest at the Festival with a free illustrated version. The book is packed with modern philosophical perspectives, such as bigotry, bullying and the power of 'the many', as viewed and applied through the eyes of a little girl.
The event is a princess themed experiential event for families. Created to fit an audience of 3-12 year old children and their families, the young guests should come prepared to participate in the 10 different Princesses Adventure Quests. Each of the five quests is led by one of the Princess Festival princesses and is designed to fully involve each guest. Using their Adventure Kits and their "magic within," the adventures are programmed for the guests to help overcome obstacles and challenges and to ultimately make the world a better place.
Princess Festival will also present three performances, including: "Princess and the Pea", "The wise little Girl" and the premier of the original puppet presentation, "Princess Kadesia and the Blue Boy" put on by award winning puppeteer and designer Joe Flores, who designed and built the puppets. Maxed Out Puppeteers will present the puppet show.
The Princess Festival utilizes 65 actors and 100 volunteers for its two performance sessions each day. Appearances by the popular "Classic Princesses" also provide opportunities for photos and autographs.