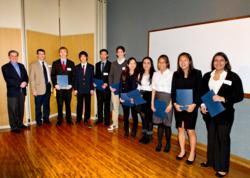 MANHASSET, NY (PRWEB) March 06, 2013
The North Shore-LIJ Health System and its research enterprise, The Feinstein Institute for Medical Research, celebrated the winners of the North Shore-LIJ Medical Marvels Program, which encourages Long Island high school students in 9th and 10th grades to pursue careers in science, technology, engineering and math (STEM). At the celebration event, participating teams presented their findings and received scholarship money.
"I was talking with a team of participating students at the Medical Marvel event, and they told me that one of the most valuable things they learned through this program was putting together a team of people who had to come together and solve a problem. This life skill is invaluable," noted Kevin J. Tracey, MD, president of the Feinstein Institute. "At the Feinstein Institute, we focus on building cohesive teams that share a common goal – to create the knowledge today that is going to prevent the diseases of tomorrow. If students have any interest at all in joining this effort, they should consider a career in science and healthcare."
Three participating teams received awards. The winning team received a $1,800 scholarship and the winning team members will be considered for placement in the Feinstein Institute summer program. The second-place team received a $1,000 scholarship and the third-place team received a $500 scholarship. In addition, the winning team's faculty mentor received a $500 grant towards the purchase of equipment or supplies for his or her classroom.
Medical Marvels is an annual program. Any New York State-accredited educational institution in Nassau or Suffolk counties is eligible to apply. For more information, please contact Cheryl Davidson at the North Shore-LIJ Center for Workforce Readiness at cdavidson(at)nshs(dot)edu.
About The Feinstein Institute for Medical Research
Headquartered in Manhasset, NY, The Feinstein Institute for Medical Research is home to international scientific leaders in many areas including Parkinson's disease, Alzheimer's disease, psychiatric disorders, rheumatoid arthritis, lupus, sepsis, human genetics, pulmonary hypertension, leukemia, neuroimmunology, and medicinal chemistry. The Feinstein Institute, part of the North Shore-LIJ Health System, ranks in the top 5th percentile of all National Institutes of Health grants awarded to research centers. For more information visit http://www.FeinsteinInstitute.org.