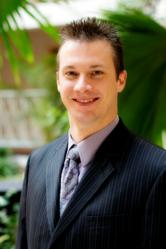 Denver, CO (PRWEB) March 05, 2013
The Embassy Suites Denver - Southeast hotel is proud to announce Mr. John Downing of Denver, Colorado, as the hotel's new Sales Manager.
John is a native of Wichita, KS and graduated from Wichita State University with a Bachelors Degree in Facility Management and Marketing. Prior to joining the Embassy Suites Denver Southeast, John was a Sales Manager at Marriott properties in Denver, CO and Tulsa, OK. John was chosen because of his experience in the markets this position handles and his vast knowledge of the hospitality industry.
As a Sales Manager of this hotel, John's primary objectives will be handling all groups that fall under social, military, education, religion, fraternal and sports. John will be working closely with Director of Sales Tony Sprouse, and General Manager Scott Turbow to achieve his goals.
About the Embassy Suites Denver Southeast:
Embassy Suites Denver - Southeast is a 205-suite hotel located just north of the Denver Tech Center on Hampden Avenue. The hotel offers complimentary cooked-to-order breakfast each morning and a Manager's Reception each evening with complimentary beer, wine, cocktails and light snacks. The hotel features an indoor pool, hot tub, fitness center, business center and gift shop onsite for guests to enjoy as well. The Creekside Bar & Grille offers contemporary American cuisine for lunch, dinner and room service. There are also over twenty restaurants within walking distance. The Embassy Suites Denver - Southeast prides itself on making our guests priority #1. For more information about the hotel, please visit http://www.denversoutheast.embassysuites.com.
Or contact: Tony Sprouse at tony.sprouse(at)wcghotels(dot)com.