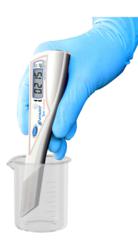 Strips produced 15% false positives and 9% false negatives.
Bellevue, WA (PRWEB) March 08, 2013
Any high school athletic trainer will tell you that current NFHS (National Federation of State High School Associations) guidelines for high school wrestler weigh-in require a urine specific gravity test done by a refractometer or test strip to assess if wrestlers are properly hydrated. However, if you ask them which method they prefer, the clear answer is a dip-style digital refractometer.
This is for a number of reasons but perhaps the biggest is something quite simple. Testers do not have to hold urine up to their eye, as in the case of a traditional analog refractometer, and can avoid the messiness of using urine test strips, which must be soaked in the urine sample. The PEN-Wrestling simply dips directly into the urine sample and takes a measurement without the need to transfer sample via spoon or pipette.
But this hygienic aspect is not the only reason for the switch. Test strips have a reputation of giving both false negatives and positives. In fact, an article published in the Journal of Athletic Training found that strips produced 15% false positives and 9% false negatives. This means that a wrestler who is dehydrated could pass the test and be allowed to compete, defeating the purpose of the urine test in the first place. It also means that a perfectly hydrated wrestler could be disqualified. The accuracy of a digital refractometer prevents such things from happening, and by digitally displaying the measurement, it also prevents user error related to misreading colors or lines.
The time it takes to measure a large number of wrestlers can also be cut dramatically with the use of a unit like the PEN-Wrestling. Test strips must be dipped in the sample and an then assessors must wait 30 seconds before the result can be read with any accuracy. And one must not forget delays caused by the difficulty of matching colors and trying to read the results. The dip-style PEN-Wrestling on the other hand, can provide an easy-to-read measurement in 2 or 3 seconds, meaning that the hydration part of the weigh-in process can be completed in a fraction of the time.
Some may argue that the upfront costs for a digital refractometer are quite high. However, it's good to keep in mind that test strips have an expiration date. Even if the expiration date were a year from purchase, this means that buying in bulk wouldn't necessarily save money because they would expire before they're able to be used. Also, once a bottle is open, they must be used within a restricted time frame. A refractometer on the other hand, is a one-time purchase that can be safely stored in a drawer when not in use, with no worries of expiration.
The above reasons are why athletic trainers have been switching from test strips to dip-style digital refractometers in the past few years. Not only are they more hygienic and accurate, they also save time and are cheaper in the long run.
ATAGO has been the trusted brand for refractometers worldwide for over 70 years. The extensive product line-up includes a strong line of clinical devices, such as the PEN-Wrestling and PAL-10S, which are specifically tailored for testing urine specific gravity. Models to test serum protein and refractive index are available as well. These best-selling 'Pocket' and 'PEN' digital models, which are small enough to fit in the palm of your hand, are famous for their quality, accuracy, design, and simplicity.