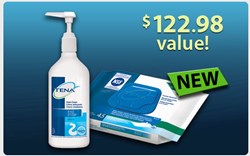 Contact with urine or stool can damage skin over time, putting it a greater risk for ulcers and infection.
Neenah, Wis. (PRWEB) March 06, 2013
The CareGiver Partnership, a national retailer of incontinence products and other home health care supplies, is giving away a prize package every month this year with its "Get Back Into Life" sweepstakes. The March prize package is a package of 540 TENA Flushable Washcloths and a pump bottle of TENA 3-in-1 Wash Cream.
"Taking special care of skin to prevent irritation is an essential part of managing incontinence," says Lynn Wilson, Founder of The CareGiver Partnership. "Contact with urine or stool can damage skin over time, putting it a greater risk for ulcers and infection. It's important to clean skin as soon as possible after elimination occurs, using a mild cleanser made for incontinence, then pat dry with a clean towel."
"Caregivers and incontinence product users only use a washcloth for about half of all product changes, but now there's no excuse to avoid this important step," says Wilson. "With new flushable washcloths and cleanser in a convenient pump bottle, skin care is now fast, easy and safe for septic systems."
TENA Flushable Washcloths includes 12 soft packs of 45 adult-size flushable and dispersible washcloths. Certified by the National Sanitation Foundation, the product is safe for toilets and septic systems. This portion of the prize package is valued at $94.99.
TENA 3-in-1 Wash Cream is a one-step, no-rinse formula ideal for the frequent cleansing that often is part of incontinence care. This TENA product addresses the three essential steps to healthy skin: cleansing, moisturizing and protecting. This 33.8-ounce pump bottle is a $27.99 value.
To enter, participants need only e-mail or mail a short statement by the end of March explaining how they or a loved one would benefit from the prize. To learn more about the two easy ways to enter and preview upcoming giveaways, visit The CareGiver Partnership "Get Back Into Life" sweepstakes page.
The CareGiver Partnership created the "Get Back Into Life" monthly giveaway to raise awareness of the many product and service solutions available among the caregiver community. Items highlighted and given away each month help seniors live more independently and gracefully in their homes. Prize packages yet to be given away this year include a sanitary disposal system, a big-button amplified telephone, a Rollator and more.
For further reading: Skin Care Vital While Managing Incontinence
The CareGiver Partnership is a national direct-to-consumer retailer of home healthcare products for incontinence, diabetes, nutrition support and more. In its seventh year of providing products and services that help caregivers and loved ones maintain personal dignity, the company also offers an online library of more than 1,400 family caregiver resources and personal service by experts in caregiving. Call 1-800-985-1353 or visit online at http://www.caregiverpartnership.com.