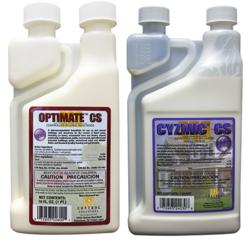 Pasadena, Texas (PRWEB) March 12, 2013
Take advantage of two great spring savings promotions for PMP's from Control Solutions. Earn a $50 VISA gift card per case purchased of Cyzmic® CS quarts and Optimate® CS pints from March 1, 2013 though May 31, 2013. All you need is a copy of your invoice and a redemption form.
CYZMIC® CS is a broad-use, slow release microencapsulated suspension containing 9.7% of the active ingredient Lambda Cyhalothrin. Featuring cutting edge CapVantage™ Technology, CYZMIC CS packs a powerful punch with 11,500 capsules per square inch for a swift knockdown and long-lasting residual. CYZMIC CS may be used in a variety of applications including in, on and around residential and commercial buildings, lawn & perimeter, on ornamentals and in animal housing. This low-odor formulation offers quick knockdown with long lasting residual against spiders as well as other tough pests like darkling beetles, ticks, flies, fleas, scorpions, bed bugs and many more.
OPTIMATE® CS gives PMPs sure-kill control with a new active, Gamma Cyhalothrin, the most powerful Pyrethroid on the market. Paired with CapVantage Technology for long-lasting time release residual, OPTIMATE CS delivers unequalled control at rates that allow you to reduce environmental load by 50% when compared to Lambda Cyhalothrin. In University testing, OPTIMATE CS achieved 100% knockdown on Big-Headed Ants more than twice as fast as Lambda Cyhalothrin after four weeks.
For more information on this rebate or to obtain a redemption form, click on the link below:
Control Solutions - Mission Statement
As a part of the Makhteshim Agan Group, the world's leading manufacturer and distributor of branded post patent crop and non-crop products, Control Solutions is dedicated to

Providing our customers with high quality, environmentally sound, and cost-competitive pesticides in the U.S. professional pest management market.
To build market share and long-term partnerships with our customers by providing a competitive advantage through our registration, formulation and marketing capabilities.
To maintaining a corporate culture of integrity, accountability and respect.
About Control Solutions, Inc.
Control Solutions, Inc. has an extremely broad portfolio of actives for all your pest control needs and we're developing new products to bring you more value every day. CSI has launched 15 new products since 2010, including a microencapsulated portfolio and the first post-patent Fipronil Termiticide/Insecticide.
The story of Control Solutions begins in 1958, when the Boyd family purchased a small Pasadena, Texas, pest control company. By 1976, Ford's Pest Control had grown to become Ford's Chemical and Service. In 1985, Control Solutions, Inc. (CSI) was created to distribute Ford's products to the professional and consumer markets. Ford's success and growth in formulating professional pest, animal health and consumer products drew the attention of Roussel, which acquired Ford's in 1989. After the Ford's sale, Control Solutions continued as a family owned business. Today, our partnership with Makhteshim Agan Industries (MAindustries.com) multiplies Control Solutions' agility in continuously adding new products to meet the needs of pest management professionals.
For more information about Control Solutions, Inc. and their products, visit http://www.controlsolutionsinc.com.