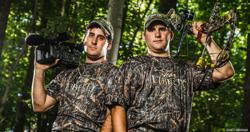 Lynchburg, Va. (PRWEB) March 04, 2013
Armed with a hunting bow and a video camera, two Liberty alumni will enter the world of reality television fame when they appear on the Sportsman Channel's "Top Outdoor Producer" beginning at 9:30 p.m. EST on Sunday, March 10.
Competing as Team Liberty, brothers David and Parker Slaybaugh trekked the deep woods of Carmi, Ill., in search of whitetail deer — and the chance to win $10,000 in cash and prizes for their hunting prowess as well as their creative camera work. The winner advances to the pro circuit, where they become eligible for $100,000 in cash and prizes.
The six-day competition includes nine teams of two members each, hailing from all across the country. The Slaybaughs were the youngest team, and the only brother team, to participate.
They said they knew the competition would be stiff, but they also knew they had the perfect combination of talent and camaraderie to rival the best in the field.
"Being brothers was a big advantage. The other competitors may have been teammates, but may not know each other as well as brothers may," Parker Slaybaugh said.
David Slaybaugh, a 2011 sports management graduate, is the more avid hunter of the pair. He helped start Liberty's archery club team, which is now winning national competitions. Parker Slaybaugh, a 2011 graduate in communications/video broadcasting, is currently working as a television news reporter.
When the brothers, originally from Colonial Heights, Va., heard about the opportunity to be on the show, they both knew they wanted to give their alma mater credit for helping them hone their skills and were excited to secure Liberty as their sponsor. They were the only team to be sponsored by a university.
"It's a contest about your skills and your creativity of using a camera, and those are both things we learned from Liberty," Parker Slaybaugh said. "It was an opportunity to really get Liberty's name out there. It was a great experience, something that is going to represent Liberty well, and is going to show what students from Liberty are capable of."
The outdoor recreation offerings at Liberty were one reason David Slaybaugh said he decided to attend Liberty.
"The archery club was a great way to take a break, to get out in the outdoors. I have some good memories from my time here at Liberty," he said.
With its prime location in the foothills of the Blue Ridge Mountains, Liberty offers more than 65 miles of hiking, biking, and running trails on its Liberty Mountain property, as well as a year-round ski slope, an equestrian center, archery and gun ranges, a motocross track, and more.
"Being in Central Virginia has so many advantages for the outdoor recreation program at Liberty," said Chris Misiano, Liberty's director of campus recreation. "We are in such a gorgeous location and students are able to really take advantage of the terrain right in their backyard."
Students also enjoy excursions to popular nearby sites on the James River and the Appalachian Trail. Liberty's Student Activities Office sponsors hiking, canoeing, kayaking, and whitewater trips.
"All this within minutes of campus lends itself to a really thriving recreation program where students are able to get involved and find something that fits them," Misiano said.
The Slaybaughs are scheduled to be featured in two episodes of "Top Outdoor Producer" on the Sportsman Channel, March 10 and 17, at 9:30 p.m. EST. Check local cable listings. Watch for updates on the Team Liberty Facebook page.
About Liberty University:
Liberty University, located in Lynchburg, Va., is the world's largest Christian university. Nearly 100,000 students attend classes on its 6,800-acre residential campus and study in its thriving online education program.