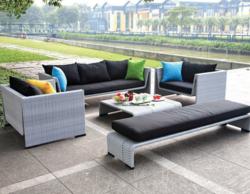 Get your Patio Furniture at Modern Furniture Warehouse.
Los Angeles, CA (PRWEB) March 04, 2013
Several of its most popular selections are included in this sale and it features Tosh Furnishings, also known for its quality outdoor dining collections, patio chaise lounges and other smart outdoor living seating choices. As consumers dig out from the record snow this season brought, the timing is perfect for this latest sale. With the latest styles, big savings and customer service that DA Stores has built its model on, the time is right for updating outdoor living space.
Included in the annual sale are complete entertainment options that are durable enough for the outdoor elements though don't compromise on style. "It's all about the colors, textures and versatility in these latest collections," said a company spokesperson, "there are a lot of spectacular designs that are chic, contemporary and original and that's what today's savvy consumers are looking for."
To further sweeten the deal, customers can enjoy easy financing, free shipping and rewards points that can be used on future purchases.
Tosh Furniture is known for its diversity in quality home furnishings. Because every home's inhabitants are different, Tosh Furniture, along with DA Stores, works to represent each of those unique styles and personalities. Those efforts are displayed beautifully in each offering. Elegant, smart, affordable and with a common sense approach to what comfort is truly about, this dynamic duo delivers time and again for consumers around the world.
For a limited time, the company is also proud to offer an additional 10% off the total purchase, along with its free shipping. Consumers are encouraged to visit the website to take advantage of all of the savings opportunities while also exploring the latest in not only modern outdoor dining and seating sets, but contemporary choices for the whole home.