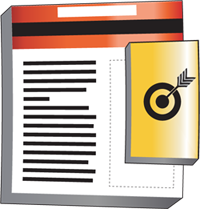 Sites like Facebook and LinkedIn are highly effective for display advertising campaigns.
Charlottesville, VA (PRWEB) March 06, 2013
Many marketers may regard display advertising as simply the banner ads regularly seen all over the web, but search engine marketing agency Search Mojo hopes to debunk this commonly-held misconception and demystify display advertising for online marketing professionals in an upcoming webinar. The free webinar, "Not Your Father's Advertising: The New Face of Display" will be held on Thursday, March 7 at 2:00 p.m. ET.
Display advertising has gone through somewhat of a renaissance in recent years, offering more high-quality options to reach an increasingly targeted audience. During this webinar, Search Mojo's Casey Davenport, Account Manager, and Sarah Lokitis, Social Media Manager, will review in greater detail display advertising options and how marketers can best leverage them to meet their goals.
"Display advertising includes everything from banners and text ads to videos and rich media – opening up a whole new world of possibilities to marketers," said Davenport. "Add to that the ability to retarget ads to people who have previously visited your website, and you have a powerful way to promote your message to the right audience at the right time."
Many marketers may also be considering their advertising options on social media, which will be covered during the webinar. "Sites like Facebook and LinkedIn are highly effective for display advertising campaigns," said Lokitis. "They offer so many ways of laser-targeting ads to precisely the right individuals, based on information like geographic location, gender, age, and even job title and interests."
To register for this informative webinar, go to http://www.search-mojo.com/display.
About Search Mojo
Recently ranked on the prestigious Inc. 5000 list as one of the fastest growing businesses in America, Search Mojo specializes in search engine marketing, social media advertising, content marketing and analytics services. Founded in 2005, Search Mojo uses the latest information and techniques to help companies improve their conversions and lead generation through search and social tactics. Learn more about Search Mojo at http://www.search-mojo.com or read our blog, Search Marketing Sage, at blog.search-mojo.com.