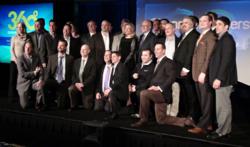 Unlilke other programs that honor size and sales, the Channel Partners 360° Awards recognizes channel partners who are taking a holistic approach to delivery technology solutions that create business value for their customers
Phoenix, AZ (PRWEB) March 06, 2013
Channel Partners magazine, which focuses on the communications industry's indirect sales channel, is pleased to announce that Converged Communication Systems and Stratosphere Networks have been selected as a winner of the inaugural Channel Partners 360° Awards.
Twenty-five winners were honored during an awards ceremony on Feb. 27 at the Spring 2013 Channel Partners Conference & Expo in Las Vegas. These winners will be featured in Channel Partners' March digital issue, May/June print issue as well as an Immersion Center at http://www.channelpartnersonline.com. The 2013 program was underwritten by AT&T.
"Unlilke other programs that honor size and sales, the Channel Partners 360° Awards recognizes channel partners who are taking a holistic approach to delivery technology solutions that create business value for their customers," said Khali Henderson, Editor-in-Chief of Channel Partners. "We are pleased that our first honorees include an outstanding group of solutions providers."
Converged Communication Systems (CCS) is a nationwide provider of best-in-class IP Telephony solutions and support services for businesses of all sizes. Focusing on industry leading solutions, Converged Communication Systems provides complete telecommunication solutions to meet up simple or complex business needs. They specialize in a full range of solutions including traditional, IP, and hybrid telephone systems as well as SIP solutions, unified messaging and fax solutions.
Additionally, Stratosphere Networks is Converged's IT division, which is focused on delivering comprehensive technology services and solutions to meet and exceed the always-changing, diverse business needs for all industries. Stratosphere Networks' team of experts work to develop a cohesive technology support plan all businesses. A fully staffed Network Operations Center provides full maintenance services and support ranging from desktop support, business continuity, disaster recovery, remote and on-site support, proactive network monitoring and ongoing maintenance services. Proactive 24/7/365 IT service, combined with guaranteed on-site response times provides Stratosphere Networks' customers with peace of mind and allows them to achieve their specific business initiatives.
To determine the winner of Channel Partners 360°, companies created a "Partner Profile" that detailed how the applicant addresses the convergence of IT and telecom services and how the company creates business value for its customers. Channel Partners editors and an expert panel evaluated all Partner Profiles to determine the top 25 candidates that exemplify the Channel Partners 360° values.
"We appreciate the recognition of this award, especially being in a class in which only the top 25 partners in the United States were honored. The Channel Partners 360 award focuses on the breadth and depth of a provider's services, something that holds tremendous value to the end user. Our clients continually demand the one stop IT solution, and we consistently deliver new and innovative solutions to meet their demands," said Kevin Rubin and Steve Melchiorre, Managing Partners of Stratosphere Networks and Converged Communication Systems.