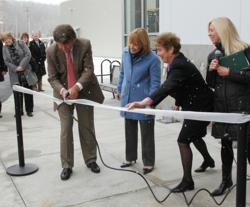 "I applaud Hypertherm for being a true corporate citizen and a great example of the innovation and ingenuity that exists all throughout the Granite State."
Lebanon, NH (PRWEB) March 04, 2013
Hypertherm, a U.S. based manufacturer of advanced cutting systems, today celebrated the grand opening of a new 160,000-square-foot manufacturing facility in Lebanon, New Hampshire. The additional manufacturing space is expected to facilitate the creation of up to 500 new jobs for New Hampshire, including advanced machinist and engineering positions.
New Hampshire Governor Maggie Hassan, Lebanon Mayor Georgia Tuttle, and Hypertherm's Dick and Barbara Couch cut the ribbon outside the facility's main entrance just after 1 p.m. Afterwards the Governor spoke about manufacturing and business growth in New Hampshire.
"I want more New Hampshire businesses to have the kind of success that Hypertherm has had in entering new markets in order to make New Hampshire a leader in selling our services and goods around the world," Hassan said. "I believe New Hampshire is as well positioned as any state to lead the nation in innovative economic growth that will lift all of our people and define the 21st century. I applaud Hypertherm for being a true corporate citizen and a great example of the innovation and ingenuity that exists all throughout the Granite State."
Guests then toured the new facility, learning firsthand about the building's many unique features. In keeping with Hypertherm's core values, the building was designed with Leadership in Energy and Environmental Design (LEED) principals to both lessen the building's environmental impact and make the facility healthier for the Hypertherm associates who work there. It includes advanced research and development space, training classrooms, and engineering labs.
Guests at today's event included Dr. Ross Gittell, Chancellor of the Community College System of New Hampshire along with representatives from the U.S. Department of Labor, and the offices of New Hampshire's United States Congressional delegation.
Hypertherm designs and manufactures advanced cutting products for use in a variety of industries such as shipbuilding, manufacturing, and automotive repair. Its product line includes handheld and mechanized plasma systems and consumables, as well as fiber laser and waterjet products, in addition to CNC motion and height controls and CAM cutting software. Hypertherm systems are trusted for performance and reliability that result in increased productivity and profitability for hundreds of thousands of businesses. The New Hampshire based company's reputation for cutting innovation dates back more than 40 years, to 1968, with Hypertherm's invention of water injection plasma cutting. The associate owned company, consistently named one of the best places to work in America, has more than 1,300 associates along with operations and partner representation worldwide.