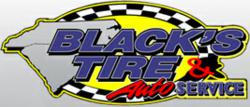 Now through April 1, is the Black's Tire sponsored coloring contest which is open to all children ages 4-13 to win a chance for them and their family to go to the Rockingham Speedway on April 12th-14th as part of the NASCAR Camping World Truck Series
Raleigh, NC (PRWEB) March 05, 2013
Locally owned and operated Black's Tire and Auto Service is a proud member of the NASCAR family, participating in the NASCAR Camping World Truck Series at Rockingham Speedway on April 12th -14th. Right now, Black's is hosting a children's coloring contest with the chance to win tickets to the NASCAR event. Participants can pick up and drop off their entries from any Black's Tire and Auto Service location by April 1st, or download them directly from Black's easy-to-use website here: Download Coloring Contest Page.
Now through April 1, Black's Tire and Auto Service sponsored coloring contest is open to all children ages 4-13 to win a chance for them and their family to go see Black's at the Rockingham Speedway on April 12th-14th as part of the NASCAR Camping World Truck Series. With 2 winners per age, and 4 tickets per winner, that means there are 80 tickets to be won for this event! Qualified entrants can pick up the coloring page at any one of over 30 Black's locations, or simply print it off of their website or Facebook page. All coloring pages will need to have the child's name, age, and phone number on the back to qualify. Winners will be chosen after April 1st, and tickets will be sent to all winners. For more information on the NASCAR Camping World Truck Series, please visit http://www.rockinghamspeedway.com or stop in at any Black's Tire and Auto Service center today.
Black's Tire and Auto Service provides top quality tires in North Carolina with friendly and honest customer automotive service. Black's carries some of the best brands in the industry at unbeatable prices like Michelin, BFGoodrich, Uniroyal, Cooper, Goodyear, Falken, and more. Customers can stop in or browse Black's large inventory on their website and can search the selection by vehicle make, model, and year, or by size, special deal, or brand. Find and print rebates on top name brand tires with a few clicks of the mouse for the best savings. Black's Tire and Auto Service has trusted mechanics who specialize in tire replacement or repair, air conditioning, brakes, oil changes, exhaust systems, and more. Pairing expert service with a customer friendly website that features top industry news, car care tips, special deals and announcements, and a handy location finder, Black's Tire and Auto Service is an unbeatable deal for all of their customer's automotive needs. For more information, log on to BlacksTire.com today!
About Black's Tire and Auto Service: Locally owned and operated since 1929, Black's Tire Service is located in Whiteville, NC, with over 30 locations including a central distribution center, a wholesale center and retail and commercial locations. W Crowell Black founded his small family business that for over 80 years has grown as a leader in giving back to the community through charitable events and sponsorships. They are located throughout Southeastern North Carolina and Northeastern South Carolina to serve the tire and vehicle needs of its customers.
Black's has your back!
http://BlacksTire.com/ was built and powered by Tire Company Solutions (TCS)