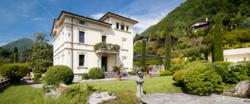 We're proud to offer our members exclusive insider experiences throughout the world's best wine regions
Broomfield, CO (PRWEB) March 05, 2013
The Quintess Collection, a leader in private luxury travel since 2004, announced today the addition of three new destinations to its "World of Wine" portfolio, adding to the club's collection of homes and exclusive experiences in the world's top wine-producing regions. Burgundy, Lake Como and St. Helena round out a list of other notable wine destinations on the club's lineup, which already includes Tuscany, Florence, Sonoma, Cape Town and Provence.
"We're proud to offer our members exclusive insider experiences throughout the world's best wine regions," said Ben Addoms, Chief Marketing Officer of The Quintess Collection. "Our members have the opportunity to meet the top winemakers, taste yet-to-be-released vintages, enjoy dinners at private homes, sample outstanding vintages from decades past while enjoying traditional and nouvelle cuisine and, most importantly, meet the people who make these extraordinary wines. And, we are actively working on an additional partnership which will expand our food and wine offerings even more."
Residences in the "World of Wine" portfolio range from a sprawling Sonoma estate located on 24 acres of olive trees, ancient oaks and vineyards to an elegant country home located in the heart of Provence surrounded by abundant trees, blooming jasmine and climbing clematis. In each destination members have access to exclusive experiences, including private tours and tastings at some of the world's most venerated wineries, vineyard picnic lunches and dining at internationally acclaimed restaurants. The club's newest residences and experiences include:
Burgundy–The Quintess Adventures Burgundy experience introduces members to friends of the club, who'll welcome you into their homes and venerated cellars, offer you their cherished vintages and share what makes the terroir of Burgundy so exceptional. The experience includes learning the art of a gourmet table, the joy of fresh produce and the delicious intrigue of wine – whatever the appellation – made using the meticulous traditional methods and aged for years in centuries-old vaulted cellars.
Lake Como–The gracious Quintess Beyond villa (where Winston Churchill often visited) features original marble and terracotta floors and many period details throughout. There are stunning Lake Como views, from the headland of Bellagio to the Alps foothills. Members can stroll the enormous manicured gardens, relax around the saltwater pool and enjoy exploring from this central location that's convenient to the entire lake.
Wine Country– Often called the "Main Street of Napa," St. Helena was beloved by author Robert Louis Stevenson. This historic village has unique shops, fine restaurants, art galleries, a museum and excellent spas. Snuggled between mountains and vineyards, the area offers visitors a glimpse of the Napa Valley as it was years ago. Bordered by a creek and vineyards, Quintess' Wine Country ranch is only minutes away from the best of St. Helena. Quintess Members, through their Destination Hosts, receive preferred access to private vineyards that are unavailable to the public and in some cases complimentary tastings. A few examples include: Repris, B Wise Vineyards, Constant Diamond Mountain Vineyard, Somerston Estate, Fantesca Estate and Winery, and Barnett Vineyards.
"The wineries our Destination Host introduced us to were spectacular: O'Brien, Palmaz, Robinson Family Vineyards and Garguilo," said Quintess Member Britt Doyle, who visited Wine Country with the club in 2012. "That is one of the great perks that makes membership so incredible; having locals on the ground to network on our behalf so that every vacation is extraordinary and unique."
The Quintess Collection offers two ways to experience the club – the new Club Card and Lifetime Memberships. Both choices provide access to the club's entire portfolio of 170 residences in 60 worldwide destinations complemented with extensive pre-travel planning and support and exemplary in-destination service.
"I spend a great deal of time seeking out new talent for the benefit of Quintess Members," said Janine Guignard, Quintess Beyond Concierge in Provence. "From the young farmer who grows the sweetest, firmest strawberries to the hidden vineyard where excellent wine is produced without a single sulfite to the chef whose crème brulée à le Lavande will send you right to heaven."
For more information call 800.550.0324 or visit Quintess.com.
#####
About The Quintess Collection
The Quintess Collection, a leader in private luxury travel since 2004, provides exclusive access to more than 170 luxury residences and experiences in 60 of the world's most sought-after destinations, including Aspen, Buenos Aires, Cannes, India, London, Los Cabos, Maui, New York, New Zealand, Paris, South Africa, Tuscany and many more. With five-star amenities in each private home, personalized services from a dedicated expert staff of travel planners and hosts with extensive local knowledge for each and every vacation, and the most sought-after golf experiences around the world through THE TOUR CLUB, Quintess Collection members and clients enjoy effortless vacation experiences each and every time they travel.