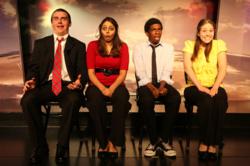 This comedy writing and performance degree will provide the intensive 'cross training' in writing, performing and producing as well as the networking opportunities that are necessary for success in this field.
CHICAGO (PRWEB) March 05, 2013
With the goal of teaching students how to "Study Funny," Columbia College Chicago's new theatre degree in comedy writing and performance is far from the usual academic fare for students dreaming of having a career you can laugh at.
Columbia College is partnering with The Second City to recruit students for a new B.A. Theatre degree with a specialization in Comedy Writing and Performance, to begin this fall. The degree program, based in the Columbia College Theatre Department, also partners with Columbia's Television and Arts, Entertainment and Media Management departments to provide the core curriculum.
"Columbia's location in Chicago, arguably the most active and influential city in the world of improv and sketch comedy, makes the college uniquely suited to offer a comedy concentration," said Warrick L. Carter, president of Columbia College Chicago, in announcing the new program. "The degree was created in response to student interest in experiential learning in the field of comedy at a time when such programs are rare."
The Comedy Writing and Performance degree builds on the Theatre Department's long and successful tradition of teaching improvisation and sketch comedy as part of its acting sequence. The degree program also incorporates the College's five-year-old "study abroad" semester in Comedy Studies at The Second City, which invites students from around the country to imbed themselves into the improv giant's Chicago location for an intensive semester of on-site classes and workshops, receiving Columbia College Chicago credit hours.
"One of the qualities that makes Second City alumni so successful is that they're not only actors, but they're also writers, which means they're always able to create their own projects," said Andrew Alexander, CEO & Executive Producer of The Second City, Inc., as well as a trustee at Columbia College. "This program fits perfectly into Columbia College's overall experiential curriculum creating students that are not only knowledgeable about their chosen field, but they're also ready to work."
Alumni of the existing Columbia College/Second City Comedy Studies semester are already making a name for themselves in the comedy world as performers and writers. Two include Aidy Bryant (B.A. '09), recently added to the Saturday Night Live cast, and CJ Toledano (B.A. '11), who has worked as a staff writer for Late Night with Jimmy Fallon and most recently for The Onion News Network.
"There are more opportunities for careers in comedy than ever before," said Anne Libera, director of Comedy Studies at The Second City and adjunct theatre faculty member/coordinator of the new degree program at Columbia College. "This comedy writing and performance degree will provide the intensive "cross training" in writing, performing and producing as well as the networking opportunities that are necessary for success in this field."
For further information about the new Comedy Writing and Performance Specialization, visit http://www.colum.edu/comedy.
Columbia College Chicago is an urban institution that offers innovative degree programs in the visual, performing, media and communication arts to nearly 11,000 students in 120 undergraduate and graduate programs. An arts and media college committed to a rigorous liberal arts curriculum, Columbia is dedicated to opportunity and excellence in higher education. For further information, visit http://www.colum.edu.
Beginning as a small cabaret theatre on Chicago's north side in 1959, The Second City has grown to become a comedy empire – building a robust $40M business based on its core improvisational methodologies. Resident theatres in Chicago and Toronto create topical sketch comedy revues that satirize politics, culture and news of the day. Beyond its stages, The Second City created the foremost school of improvisation-based arts in the world – with training facilities in Chicago, Toronto and Los Angeles that currently enroll over 11,000 students annually; a corporate division that works with hundreds of Fortune 500 companies in areas of training, marketing, entertainment and brand services; and The Second City's forays into television and new media include the classic, Emmy-award winning comedy series SCTV and continues to produce new content and programming originating from The Second City Entertainment's offices in Los Angeles.
###