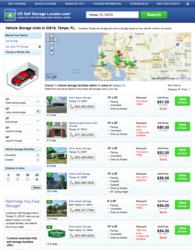 So hitch that vehicle to the moving truck and reserve a storage unit online for your contents and your vehicle.
Miami, FL (PRWEB) March 07, 2013
Although many look forward to moving, not many people enjoy the actual work involved in moving. Picking up the moving truck, loading and unloading it, is an ordeal that not many enjoy; but locating the right storage facility and the perfect storage unit has never been easier. Now DIY movers have a convenient search tool available to them, that closes the gap between their move and locating a self storage unit close to their destination. One less task for a DIY mover to be concerned with, when making that big move.
From the convenience of their desktop or smart phone, DIY movers can comparison shop several storage facilities near the area they are moving to, choose a location, size, price, special and the amenities they like from the results pages and reserve a unit within a few minutes. The unit will be available for them when they arrive with the moving truck and the move process will be expedited since the reservation was made online. Since USSelfStorageLocator.com list storage facilities throughout the Country, local and long distance movers will find this search engine extremely helpful.
In addition to storage units for personal or business contents, DIY movers can locate car, boat, trailer and RV storage via the search engine. A variety of sizes are listed for vehicle storage and some facilities offer covered parking as an amenity. So hitch that vehicle to the moving truck and reserve a storage unit online for your contents and your vehicle.
According to the U.S. Census Bureau, more than 40 million Americans move each year. A great majority of these moves are DIY movers, who pack, load, drive and unload the moving truck themselves. Movers will appreciate the energy, the time and money that they save by using USSelfStorageLocator.com's search engine when searching for self storage. Moving is tedious enough, there is no need to make looking for self storage tedious.
About USSelfStorageLocator.com
USSelfStorageLocator.com is the best self storage comparison shopping site in the industry. Consumers are able to locate, compare and reserve a self storage unit online or by phone, anywhere and anytime. USSelfStorageLocator.com features software integrations with all major property management systems, and uses the most advances technology to pull data and push reservations in real time. USSelfStorageLocator.com's team is comprised of self storage and technology professionals, and is headquartered in North Miami Beach, Florida, for more information you can contact them at 888-222-0225.