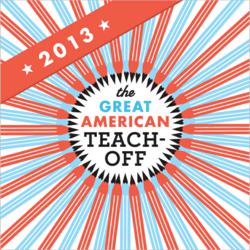 Los Angeles (PRWEB) March 05, 2013
GOOD and University of Phoenix® today announced the 20 finalists who will remain in the running to win the Great American Teach-Off. The program will award two deserving teachers – one from grades K-6 and one from grades 7-12 – with $10,000 classroom grants.
Finalists are now competing for public votes that will secure their place as one of America's most innovative teachers. Finalists will provide video responses to a series of questions highlighting their creativity and passion in the classroom, as well as their positive impact on the greater education community.
Past grant recipient Daryl Bilandzija of Odyssey Charter School in Altadena, Calif., brought classroom learning to life for his students with an outdoor edible and sustainable garden. Grant recipient Terry Dougherty of Roland Rogers Elementary School in Galloway Township, N.J., drew on her own experience in a military family and created and funded a free military child-tutoring program.
Voting begins on March 4 and the public can visit http://www.good.is/GATO to cast their votes for the finalists. Each week, the field will be narrowed by two finalists based on public votes. The two grant recipients will be named in the spring.
The Great American Teach-Off Finalists

Kaci Heins teaches 6th grade Science at Northland Preparatory Academy – Flagstaff, AZ
Amy Steinberg teaches 5th grade at Kensington Elementary School – Kensington, NH
Christopher Craft teaches 6th grade STEM classes at CrossRoads Middle School – Charlottesville, VA
Sachiko Miyaji teaches 2nd grade at Melrose Elementary -– Los Angeles, CA
Emily Volkert teaches 3rd grade at Newlon Elementary School – Denver, CO
Madeleine Rogin teaches Kindergarten at Prospect Sierra – El Cerrito, CA
Michael Hansen teaches 6th grade Science at Linden STEAM Academy – Malden, MA
Philip Hur teaches Kindergarten at Citizens of the World – Silverlake, CA
Megan Nordoff teaches Kindergarten at Montessori School of Mount Pleasant – Mount Pleasant, SC
Laura Manley teaches 2nd grade at EC Reems Academy – Oakland, CA
Christopher Leonard Pennington teaches Life Skills for 9th – 12th grades at Thomas Alva Edison High School – Minneapolis, MN
Brian Munoz teaches Music for 9th - 12th grades at Wakefield High School – Raleigh, NC
Bob Marquis teaches Media Arts/Digital Film for 11th and 12th grades at Metro Tech High School – Phoenix, AZ
Jason Huber teaches English for 7th and 8th grades at Eastern University Academy Charter – Philadelphia, PA
Lou Lahana teaches Technology for 7th and 8th grades at Island School – New York, NY
Cassandra Anne Hammond teaches 8th grade English and Social Studies at Mount Shadows Middle School – Nuevo, CA
Jason Kaare teaches Agriculture for 9th – 12th grades at Marshall High School – Marshall, MN
John Venner teaches 7th grade Mathematics at Palisades Middle School – Kintnersville, PA
Everett Jeremy Rodriguez teaches Theatre and Music for 9th – 12th grades at Liberty High School – Glen Daniel, WV
Chloe A. Kannan teaches Language Arts for 7th and 8th grades at Ruleville Middle School – Ruleville, MS
About University of Phoenix
University of Phoenix is constantly innovating to help students balance education and life in a rapidly changing world. Flexible schedules, challenging courses and interactive learning can help students pursue personal and career aspirations without putting their lives on hold. As the flagship university of Apollo Group, Inc. (Nasdaq: APOL), University of Phoenix serves a diverse student population, offering associate, bachelor's, master's and doctoral degree programs from campuses and learning centers across the U.S. as well as online throughout the world. For more information, visit http://www.phoenix.edu.
About GOOD
GOOD Worldwide LLC. (http://www.good.is), launched in September 2006, is an integrated media, thought leadership and community action platform for people who want to live well and do good, and a community of, by, and for the people, businesses, and NGOs moving the world forward. GOOD's mission is to convene, connect, and empower the global community of people "who give a damn."
# # #