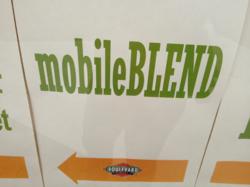 "TechOrchard did a great job facilitating discussion around the hot topics in mobility..."
(PRWEB) March 05, 2013
Kansas City, based MobileIT company TechOrchard on Thursday, September 28th at the Boulevard Brewery hosted the first of this year's series of mobileBLEND events. Thursday's event focused on bringing together business leaders and subject experts on the most popular tools businesses are using for enterprise mobile deployments and management platforms.
Attendees to the invite-only February 28th MobileBLEND event had the opportunity to directly engage with representatives of the market-leading platforms and services currently being used to make mobility in business safe and secure in an increasingly BYOD World. "The mobileBLEND event was a great opportunity for local businesses to learn from industry-leading pioneers about mobility, BYOD strategy, policies, and the tools available to ensure successful deployment and management of mobile devices." said Dustin Burns of McCownGordon Construction.
Business leaders and IT executives alike were able to gain a solid understanding of the tools available to them through a facilitated panel discussion and open Q & A.
In addition to vendors and representatives on the panel, were several representatives from local businesses who shared their real-world applications of the tools used by their organizations to embrace mobile-first and BYOD mobility strategies. Jonathan Wooley, of BRR Architects, and a panelist for the event said: "I greatly enjoyed being a part of the mobility discussion at TechOrchard's mobileBLEND event. The mobility landscape in the workplace is evolving rapidly. Different hardware manufacturers, operating systems, user owned devices verses company owned devices, and management and control of company data add complexity. TechOrchard did a great job facilitating discussion around the hot topics in mobility."
The event was organized and hosted by TechOrchard at Boulevard Brewing, Co. in Kansas City, MO; and sponsored by MobileIron, Box, and CrashPlan Pro.