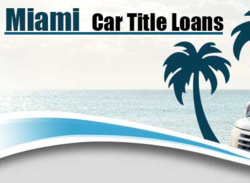 Orlando, FL (PRWEB) March 06, 2013
Orlando Car Title Loans is making it even easier (once again) for its customers to apply for car title loans. In the upcoming weeks, Orlando Car Title Loans' website will be receiving a complete overhaul. After updating their website, they've decided to update their application template to make it even more user-friendly and navigable. The site will feature an all new video introducing the company and the website as well.
Another new application template has been designed which will speed up customers' application process even more. A further tweak being added to their site is a searchable F.A.Q. section where customers can search the F.A.Q. section with keywords to see if others have already looked or if an answer to their question already exists. A blog is to be included in the updated site as well as a cleaner looking contact section meant to allow customers ease of access.
In order to make this change possible, they have gone on to expand their marketing department by 33% in the last month. This growth has allowed the company to bring in more customer applications after developing a much simpler application template that allows the customer to get a loan that is built around their exact needs. Orlando Car Title Loans is currently ranking first among keywords matching "car title loans in Orlando" and "Orlando Car Title Loans," allowing customers to search and find them that much easier. With this status comes an influx of visitors which in turn has allowed them to revamp their website.
All the while, the current template has made the entire application process the fastest it's ever been and with this upcoming application template comes a larger conversion rate. Orlando Car Title Loans is looking at one of its best months ever with a 23% conversion rate amongst visits and applicants. Orlando Car Title Loans is constantly growing and expanding with locations covering a wide area. If you need to contact Orlando Car Title Loans you can via phone at 888.304.2120 or their website at http://www.orlando-cartitleloans.com