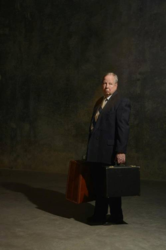 Salt Lake City,UT (PRWEB) March 04, 2013
The Grand Theatre at Salt lake Community College presents Death of a Salesman March 7-23, 2013. American Playwright Arthur Miller wrote the Tony and Pulitzer Prize-winning play.
Directed by Mark Fossen, the cast includes Anita Booher, Daniel Beecher, Alexis Boss, Rusty Bringhurst, David Hanson, and features Richard Scott as Willie Loman.
Richard Scott, the Executive Artistic Director of The Grand Theatre, returns to the stage after a five-year acting hiatus. He was last seen in the Grand Theatre's production Inherit the Wind.
Mark Fossen returns to the Grand Theatre as director. He previously directed The Crucible and The Glass Menagerie at the Grand Theatre, both of which received critical acclaim and regional recognition.
The show plays three weekends, March 7-23, Thursday-Saturday at 7:30 p.m., with a Wednesday showing on the 13th and Saturday matinees on the 9th and 16th.
The Grand Theatre is located at 1575 S State Street in Salt Lake City.
For more information or tickets, contact the Grand Theatre box office at: (801) 957-3322 or http://www.the-grand.org.
About the College: Salt Lake Community College is an accredited, student-focused, urban college meeting the diverse needs of the Salt Lake community. Home to more than 62,000 students each year, the College is the largest supplier of workforce development programs in the State of Utah. The College is the sole provider of applied technology courses in the Salt Lake area, with 13 sites, an eCampus, and nearly 1,000 continuing education sites located throughout the Salt Lake valley. Personal attention from an excellent faculty is paramount at the College, which maintains a student-to-teacher ratio of less than 20 to 1.
# # #