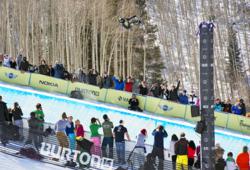 Hirano, who went even bigger than legendary Shaun White, earned a place in snowboard history as the youngest snowboarder ever to claim The World Snowboard Tour Halfpipe Champion 2013.
Vail, CO (PRWEB) March 05, 2013
Young Japanese Pipe destroyer Ayumu Hirano earned second place at the Burton US Open Snowboarding Championships, taking home $20k and making history again after coming off his X Games silver medal win as the youngest medalist, who can now add youngest "Halfpipe Champion" to his record book.
Hirano, who went even bigger than legendary Shaun White in Vail's perfect halfpipe, and pushed him hard to the finish, earned a score of 87.40 next to White's 95.58 high score, and a place in snowboard history as the youngest snowboarder ever to claim this prestigious title.
"I was able to ride my best at the US Open and couldn't have done it without all my friends, sponsors and coaches supporting me," said Ayumu. The halfpipe at Vail was on point and I think it was a fun day for everyone in the contest."
Hirano linked together a massive run and amplitude was key, boosting the highest method air of the day on his first hit at nearly 25-feet, followed into a frontside 1080 tail grab, cab 1080 nose grab, frontside 900 tail grab, backside 540 mute, and nailed an absolutely huge frontside 1080 double cork frontside grab on the last hit. His final run, unbelievably, was even bigger and better – unfortunately Hirano literally ran out of room on his last hit and landed in the shallow transition at the end of the Pipe.
Not only does this victory come off the heels of Hirano's famous silver medal performance at Aspen X Games, but the young Monster Energy rider just recently won first place at the 2013 Burton European Open Halfpipe Finals in Laax, Switzerland with a score of 86.60, and won the Burton High Five in New Zealand to start the season off.
Hirano has been dominating the Junior's Halfpipe scene for a couple years now, but he literally detonated the Men's Pro division in 2012/2013 and signified the changing of the guard, and the beginning of a new era. Snowboarding in Japan since the tender age of four, Ayumu follows the teachings and guidance of Monster Energy teammate and certified "Stylemaster" Kazuhiro Kokubo and splits his time between the US and Japan.
For more on Hirano, check out http://www.monsterenergy.com and http://www.facebook.com/monsterenergy. The site is dialed with exclusive photos, videos, and behind-the-scenes updates featuring Monster Energy athletes.
For interview or photo requests contact Kim Dresser (kim.dresser(at)indiepragency(dot)com).
###
About Monster Beverage Corporation:
Based in Corona, California, Monster Beverage Corporation is the leading marketer and distributor of energy drinks and alternative beverages. Refusing to acknowledge the traditional, Monster Beverage Corporation supports the scene and sport. Whether motocross, off-road, NASCAR, BMX, surf, snowboard, ski, skateboard, or the rock and roll lifestyle, Monster is a brand that believes in authenticity and the core of what its sports, athletes and musicians represent. More than a drink, it's the way of life lived by athletes, sports, bands, believers and fans. See more about Monster Beverage Corporation including all of its drinks at http://www.monsterenergy.com.