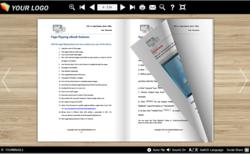 (PRWEB) March 05, 2013
Today, FlipPageMaker.com, a leading flipbook software company from China, announced its 3rd anniversary. This company has obtained speedy growth in the past 3 years, while many competitors are struggling in a weak economy.
Based in Guangzhou, China, FlipPageMaker.com attributes all its growth to a strong product line and its huge customer base. Last week, FlipPageMaker.com updated its website to a multi-lingual platform in 36 different distinctive languages, so that they can make their products available for more potential customers from all over the world.
"From the foundation of the company, we pay much attention to user experience, and we have designed many popular flipping book softwares in the market, like the FlipBook Creator for Windows, FlipBook Creator Professional for Mac, and more," said Jason Chen, CEO of FlipPageMaker.com. "Customers' satisfaction and feedback are very important for product improvement and our development. Thanks to the customers there, our staff has tripled in the last three years."
Jason Chen added, "Our elite software engineers have many years experience in the industry, and we will continue to develop exciting new softwares for users in 2013. We hope to expand our flipbook creator market share of the online market as well."
The company has promised to spare no energy to improve product quality and service, The company officials have informed that more a new flip book maker is about to come out next week.
About FlipPageMaker.com
Founded in 2008, FlipPageMaker.com is a leading online store that offers a full range of flipping book softwares. The company has a group of software engineers who can always create functional and handy designs for customers all over the world.