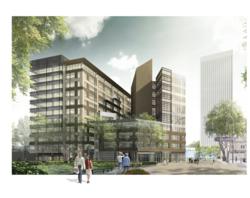 4240's creativity has resulted in an iconic building that will be the new image of Greenville.
Greenville, SC (PRWEB) March 05, 2013
4240 Architecture today announced the largest sustainable development under construction in South Carolina, the aptly named ONE Greenville. "4240's creativity has resulted in an iconic building that will be the new image of Greenville," says developer Bob Hughes. Also known as Project ONE, it will be a 400,000-square-foot modern hub for education, banking, law offices, retail and restaurants, marking a new era for this historically industrial city.
The development is targeting LEED-Gold certification — for Leadership in Energy and Environmental Design — from the United States Green Building Council (USGBC). Among other measures, the project's 36-kW solar array will provide onsite power generation, and its green roof will prevent storm-water runoff, absorb heat and save energy.
That environmental sustainability is matched by a commitment to economic sustainability. "ONE Greenville is emblematic of the City's longstanding commitment to reinvest in its infrastructure and public spaces, and bolster private investment," says Mayor Knox White. It's a sentiment echoed by Michael Kerski, Economic Development Manager for the City: "The development has been of such magnitude that several of the surrounding properties, vacant and in distress for years, have been purchased and renovated."
For CertusBank, Project ONE's largest tenant, 4240 is designing a corporate urban campus, with executive and administrative offices and a state-of-the-art learning and development center. In addition, their flagship retail space will offer an engaging, interactive banking environment: "4240 has helped transform our vision of an experiential brand into something that is distinctly CertusBank. We are thrilled with the design," says K. Angela Webb, CertusBank president.
Project ONE will also house Clemson University's 70,000-square-foot Graduate School of Business, signifying an evolution of the 124-year-old institution. Among pioneering new programs is an MBA in Entrepreneurship and Innovation, "a prime example of Clemson's critical role in economic development," says Claude Lilly, dean of the College of Business and Behavioral Science. The building will connect Clemson students, faculty and staff to what Forbes calls one of the top-10 downtowns in the country.
The tenant list will be rounded out by unique restaurants such as Tupelo Honey, forward-looking retailers like Anthropologie, and the law offices of Haynsworth Sinkler Boyd, P.A. "Greenville has become a beacon for businesses and visitors from around the world," says E. Randal Johnson, AIA, a 4240 founding principal. "4240 Architecture is honored to be part of this important movement in true sustainability."
About 4240 Architecture
With studios in Chicago [42° N latitude] and Denver [40° N latitude], 4240's global work impacts a wide range of markets, including mixed-use urban infill, multi-family residential, commercial, government, higher education and resort hospitality. The firm was recently honored with the prestigious American Architecture Award. Current clients include the U.S. General Services Administration, the University of Colorado at Boulder and Walt Disney Imagineering. Learn more at http://www.4240arch.com.
--
Media Contact:
David Scott
CONTENT Public Relations
david(at)ContentUniversal(dot)com
720.371.9164
###