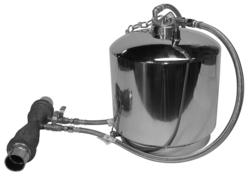 Benrich Service Company uses an aquadene water treatment compound to treat piping systems on properties all over California, Arizona and Nevada.
(PRWEB) March 11, 2013
Benrich Service Company is offering free analysis to determine whether water treatment will protect any property's piping system. This analysis determines the problems a piping system is experiencing as well as the best solution to these problems. By asking key questions, looking at the piping set up, or even taking a water hardness test, Benrich has the ability to determine if you need water treatment, cathodic protection, different pump sizing, or various other solutions.
The most common solution is a water treatment system. Water treatment is the best way to save a property money on water related issues. Piping systems commonly experience problems of scaled water heaters, corroded pipes and pin-hole or slab leaks. The best way to reduce these common and re-occurring problems is by using water treatment to protect any piping system.
Benrich Service Company uses an aquadene water treatment compound to treat piping systems on properties all over California, Arizona and Nevada. Aquadene is a blended phosphate that will do three things:
1. Prevent the oxidation of iron in water
2. Stop corrosion of plumbing and bathroom fixtures
3. Eliminate hardness scaling
In order to prevent corrosion, the compound forms a thin, protective film on the inside of pipes and metal parts. This film is microscopic in thickness and will not build up over time. Benrich has been protecting piping systems with water treatment for over 50 years. The most common applications include:

Apartments and Condominiums
Hotels and Motels
Schools
Municipalities
The savings that result from water treatment are in direct correlation of avoiding many costs. This includes the costs of:

Continually cleaning and maintaining scaled water heaters and boilers
Replacing heat exchangers
Tearing into walls, floors or ceilings to repair piping leaks
Repairing pipes stopped up with scale or damaged by rust and corrosion
Down time due to extensive equipment replacement or repairs
The Benrich water treatment system is a tested and proven approach to reduce such costs by 85%. Contact Benrich Service Company to get a free quote and inspection for water treatment at your property. Call 714-241-0284