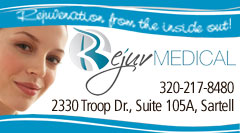 Walking helps you lose weight, improves your mood and lowers low-density lipoprotein (LDL) cholesterol, the "bad" cholesterol. There isn't a single reason I can think of for someone to skip this event."
Minnesota (PRWEB) March 18, 2013
Rejuv Medical is sponsoring this year's annual iRock Run. The event will take place on April 6th of 2013. Rejuv Medical is one of Minnesota's "most involved" corporate wellness companies, which is managed under the direction of Dr. Joel Baumgartner. Rejuv Medical is encouraging members of the public, who like to walk or run, to sign-up for the iRock Run. The event offers prizes and all the money raised is donated to the Girl Scouts of Minnesota and Wisconsin Lakes and Pines.
"People in Minnesota know how committed Rejuv Medical is to promoting weight loss and living a healthy lifestyle. I'm dedicated to supporting this event because it is a win-win. People are outdoors and exercising while raising money for a great organization," said Dr. Baumgartner. "Of course, running this race is an amazing activity to be a part of. But, walking is too. Walking helps you lose weight, improves your mood and lowers low-density lipoprotein (LDL) cholesterol, the "bad" cholesterol. There isn't a single reason I can think of for someone to skip this event."
As an official sponsor, Rejuv Medical will be on-site at the iRock Run event. The race starts at 12:30. "My staff at Rejuv Medical is always hands-on. Every single person who is healthier and trimmer is a direct reflection of my business," continued Dr. Baumgartner. "We want to be the best possible ambassador for fitness and supporting our community's youth." Early registration for the event is accessible here: http://www.irockrun.com/information
About Rejuv Medical: Rejuv Medical is Minnesota's premier Orthopedic and Sports Medicine Provider. Both locations are under the direction of Joel Baumgartner, M.D., who promotes a non-surgical approach to all injuries when possible. Rejuv Medical's Community Relations department has helped to organize and sponsor a variety of events in Minnesota. In addition, Rejuv Medical provides physical therapy, medically supervised and anti-aging medicine services. For more on the company, or to contact a media site visit and/or interview, please contact Helene Vece at 702-749-5925 Ext 210 or J.R. Burgess at 320-217-8480.