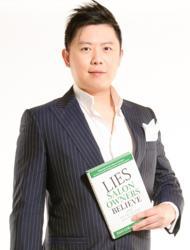 "The salon industry has evolved dramatically in recent years, and in order to succeed in today's competitive marketplace, salon owners must evolve as well.
Seattle, WA (PRWEB) March 06, 2013
In today's struggling economic climate, many business owners are looking for affordable and creative ways to attract new clients and customers to support their businesses. This is especially true in the Salon and Spa industry throughout North America.
Fortunately, successful entrepreneur Dan Lok has recognized the struggles that Salon owners go through today and has created several new programs through his website SalonBusinessExpert.com to help any Salon business reach and capture more clients, maximize profits and achieve complete business success.
Widely recognized and celebrated as 'the salon business expert in North America', Dan Lok, the owner of five successful salons and founder of Salon Business Expert, Inc. is a self-taught business owner who has used his hard work ethic; combined with relentless determination, guidance from his mentors, and creative business thinking to create an effective business platform for success in this highly engaging and potentially profitable industry.
"The Salon industry has evolved dramatically in recent years, and in order to succeed in today's competitive marketplace, salon owners must evolve as well," noted Dan Lok, who currently owns five successful Salons in North America. "Just like virtually any successful business venture, the key to achieving success in the Salon industry is for any business owner to understand the importance of working smarter – not harder. This is a major reason for our success, and I'm honored to share this with other Salon owners to help them achieve their business and personal success stories via the tools available at http://www.SalonBusinessExpert.com."
The Salon industry has seen a rampant growth in recent years. In fact, according to the National Accrediting Commission of Cosmetology Arts (NACCAS) the beauty salon and spa industry is a leading growth opportunity, seeing an increase in new business openings of 35% over 2011 statistics. It is this increase in more Salon openings that has created a highly competitive marketplace, and convinced several Salon business owners to seek out professional advice from industry leaders such as Dan Lok and the award winning team at Salon Business Expert, Inc.
"The truth in today's competitive Salon industry is that artistic skills will only net partial business success," noted Lok. "Of course quality services and a good word of mouth advertising campaign can't hurt, but the key to success in today's digital age is to reach the hundreds of thousands of potential customers online. When more than 80% of all potential Salon customers search online for a great Salon to frequent, regardless of their location; it is more important than ever to have a solid online presence, rank high on search engines and put forth a positive online marketing strategy."
Some of the newest features offered by SalonBusinessExpert.com include website hosting, development, Search Engine Optimization, Mobile Marketing, Business consulting, and many other proven business keys to success. To learn more about how Dan Lok and his amazing team at Salon Business Expert can help your company grow, please visit http://www.salonbusinessexpert.com.