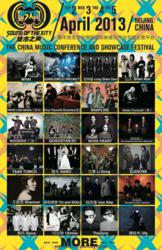 (PRWEB) March 05, 2013
MusicDish*China announced that Canadian rock band Your Favorite Enemies and French band Voodoo have been invited to participate in Sound of the Xity, China's music conference and showcase festival taking place in early April. Though details have yet to be released, both bands will be part of a top line-up of chinese and international bands scheduled to perform at some of Beijing's most venerable venues. Both bands' festival performances will open their respective spring tours throughout China.
Your Favorite Enemies is a Canadian rock band whose sound is a blend of alternative rock and emocore. Formed in 2006, the band quickly shot to fame when their debut EP sold more than 30 thousand units the following year. To retain complete artistic freedom over their works, the six members created their own label, Hopeful Tragedy Records, and continues to produce music and videos from their own studio. They further solidified their fame when they became one of the first international artists to write a theme song for Final Fantasy in 2008. YFE embarked on an extensive tour around China in 2011, making this the band's second trip to the nation.
http://www.yourfavoriteenemies.com
Voodoo is a blues rock band under the label, Angel Sweet Records. Channeling blues, electronic, and classic rock, the band carries a wealth of influences that they somehow meld into their own unique sound. The four members hail from very different musical backgrounds, and when they formed the band in 2007, the diversity of influences helped the band find their own blend of music.
http://voodoo-music.fr/
Both bands will attend the annual Sound of the Xity conference, which invites producers and artists to perform in China in hopes of bridging Eastern and Western markets. The Festival only selects the most representative bands to perform on the Chinese stage. Aside from the three day showcase festival, there will also be a two day music conference in which industry playmakers can discuss the international music market.
"Sound of the Xity", launched by SX-Music in 2011, is an ongoing branded activity comprised of periodically-held events. Sound of the Xity events provide a single platform for musical performances, modern performance art, industry talks, and cultural exchange for young artists from around the world. This platform draws together the subcultures and related products that spring up around the central core of music, presenting these to artists, industry professionals, the cultural industry media and young audiences in different cities all around China. Sound of the Xity is working toward becoming the most substantiative single platform for international modern music and cultural exchange in China and the most effective choice for the international development and growth of local music and related subcultures. "Make Music Big!" is a playful yet serious motto, aimed at making the ideals and artistic energy of modern music the mainstream pulse of modern urban life.
http://www.sxity.com
https://www.facebook.com/soundofthexity
MusicDish*China connects live entertainment and social media to reach and interact with today's Chinese music fans. Through partnerships with major festivals, such as Midi, JZ Shanghai (largest jazz festival) and Jue Festivals, MusicDish*China engage fans through cutting edge content, social media and live events. In addition to representing a growing roster of Western talent, MusicDish*China has also promoted concerts and tours for major Chinese such as Queen of Pop and award-winning Mayday. Founder Eric de Fontenay recently signed Taiwanese acts DJ Code and RED for management.
http://china.musicdish.com
Contact Info:
Eric de Fontenay
MusicDish*China
http://china.musicdish.com
chinasounds(at)musicdish(dot)com
tel: +1-718-278-0662