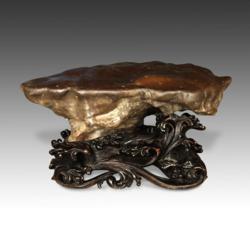 a place for us to set our imagination
Chicago, IL (PRWEB) March 04, 2013
To celebrate the end of Chinese New Year's celebrations, Primitive, the well known Chicago gallery, unveiled a rare stone table created in China millennia ago. The table is composed of two parts – a natural stone top and an elaborately carved man made base. The top by itself is commonly known as a Scholar's Rock, although its formal name is "Gongshi," which means Spirit Stone. The base is carved from wood to resemble swirling waves. Once mounted, the top has a flat surface, giving it the appearance of being intentionally designed by nature as a table and making it a unique piece of functional art. The piece is being shown as part of a much larger exhibition of Gongshi.
In unveiling the table, Primitive issued the following statement: "A thousand years ago in China, rocks from outdoors were brought inside and venerated as inspirational objects. An unknown person realized certain types of compelling, naturally formed rocks could excite the imagination and spur creativity. When elaborate bases were hand carved for these rocks an entire art form was born.
The unique scholar's rock table rises from its base like an island out of the sea, a deep rust colored platform balanced on exuberant swirling waves. By Gongshi standards it is large, but it is memorable for two other reasons. First, it is engaging; and second, it screams to be used, not just contemplated. Glen Joffe, the owner of Primitive, said "This piece was not just sculpted by nature. It looks as if she intentionally designed it as functional art."
The surface of this table looks like a moonscape, and like any good Scholar's Rock it easily excites the imagination, except unlike most other pieces in this artistic category, it is functional as well. Joffe also said, "It can support objects like any other table, but it's also a place to set our imagination." The piece is composed of rare calico Lingbi Stone. Eons ago, it rose from the deep red mud of the Qingshi Mountains in China's Anhui Province, the birthplace of many natural stone masterpieces. When the top and base were joined together both were enhanced, proving that it's better to collaborate with nature than work against her.
About Primitive: located in downtown Chicago, Primitive presents exclusive one-of-a-kind collections of furniture, artifacts, textiles, jewelry, fashion and artwork from around the world. Whether visiting in-person or on the web, you will find a vast colorful mosaic of authentic collections brought from some of the world's hardest to reach places. Everything offered by Primitive has a story, history, purpose and design heritage and comes "from the hand and heart."