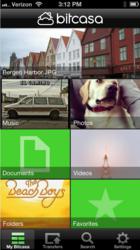 Bitcasa is the future of storage. And the future is today.
Mountain View, Calif. (PRWEB) March 05, 2013
Bitcasa, the creator of infinite and secure storage across all devices, today announced that its Infinite Drive™ is being used by paid subscribers in 114 countries only a month after its release. For just $10 a month, users around the world are enjoying infinite storage, anywhere access, and automatic backup with built-in client-side encryption to ensure privacy.
Since announcing general availability on February 5, 2013, Bitcasa has witnessed tremendous growth:

Consumers in 114 countries are paying for the Infinite Drive – with adoption in both large (US, UK, Germany and Japan) and small markets (Switzerland, South Africa, and the Solomon Islands).
The company now has more than 18 petabytes of user data under management, a 13 percent increase in just the past month.
The company's conversion rate to paid subscribers is tracking above industry average, and in many cases users are so enthralled with the value proposition they upgrade to the paid service in less than 10 days.
"Imagine a world in which you never have to worry about gigabytes — users across the world have realized this dream with our Infinite Drive," said Tony Gauda, CEO of Bitcasa. "The impressive growth we have experienced is evidence that infinite storage and frustration-free sharing is the way of the future. It is the way we will connect on any device without ever having to worry about running out of space or backing up your data. Bitcasa is the future of storage. And the future is today."
Bitcasa users are enjoying an amazingly simpler digital life:
Dads are instantly sharing 1GB birthday videos with grandparents. Grandma simply streams it from Bitcasa with no file size limits and no email attachment frustrations.
Moms are taking pictures and videos on their iOS and Android phones, and know they are automatically uploaded to Bitcasa. From there, it's safe and easily shared with family friends.
Students are storing their class notes and documents, knowing they are backed up, encrypted, and instantly accessible from their tablets, phones, and laptops.
Home users are backing up their important folders or even their entire hard drive. With Bitcasa folder mirroring and time-machine versioning, users don't have to worry about backups ever again.
About Bitcasa
Founded by former Mastercard and Mozy employees and backed by top-tier investors, including Horizons Ventures, First Round, CrunchFund, Pelion Venture Partners, Samsung Ventures, and Andreessen Horowitz, Bitcasa is redefining how consumers are storing and accessing their data. Bitcasa offers access to an Infinite Drive across all devices with support for iOS and Android, Web Access, Mac desktop, Windows Desktop and Windows RT. Users never have to worry about running out of disk space again. They can save, access, and share an unlimited number of documents, pictures, music, and movies from any device. Everything is encrypted locally and backed up in the cloud, so user data is always safe and secure. Download the Infinite Drive at http://www.bitcasa.com.