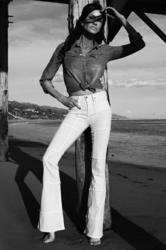 "Janice Dickinson in Sonas jeans on Malibu Beach Feb 2013"
San Francisco, CA (PRWEB) March 06, 2013
Sonas San Francisco is thrilled to announce the launch of its new line of fashion forward patchwork jeans modeled by style icon Janice Dickinson. This unique denim line, which started as a dream, hatched on the floor of creators Gerry and Christine Kelly's Haight Street apartment in San Francisco and is available in select fashion boutiques in San Francisco and Los Angeles.
The inspiration behind this new denim collection came from the Burning Man Arts Festival and the streets of San Francisco. The collection is a high end modern day twist on the 60's and 70's patchwork.
"Our typical customer is fashion forward, confident and marches to the beat of their own drum" says Kelly.
Sonas San Francisco is on a mission to put a fresh new look on denim and put San Francisco back on the fashion map. What makes it different than any other denim brand is that each jean is made from over 50 individual patches that have been hand cut and sewn together to give it its unique look and perfect fit.
Sonas San Francisco is a completely new look on denim, something original and fashion forward in a time when innovation is very much needed in the fashion world.
Avid style watchers may have already seen the signature patchwork jeans on Laurie Holden from AMC TV's hit show The Walking Dead or Sofia Milos from CSI Miami. The men's jeans have been seen on Rock Stars such as Danny O' Donoghue from The Script and many more trendsetting celebrities.
Sonas San Francisco was founded in July 2010 when founder Gerry Kelly couldn't find the jeans he wanted to wear to the Burning Man Arts Festival in Blackrock City, Nevada. He decided to custom make his own jeans from reclaimed denim that he picked up at a local denim factory in San Francisco. His jeans were a hit at the Burning Man and back in the City. In August 2011, a chance meeting led to a collaboration with 70 year old veteran designer Allan Chevalier who brought the original Sonas festival pants in a new direction. Chevalier, with a history of work with Ron Herman, Fred Segal and Nordstroms, helped Sonas perfect the impressively tailored fit, elevating the Sonas patched denim design into the high end denim market.
Another piece of luck came Gerry's way when at a fundraising event in LA he met style icon Janice Dickinson. Gerry shared the Sonas brand story and Janice tried on the great fitting jeans and, impressed by their look and fit, offered to help promote Sonas. Inspired by devoted animal welfare attorney & co-founder Christine Garcia, Sonas donates 10% of its net profits to animal welfare and is in the process of building an animal sanctuary in the San Francisco Bay Area.
Sonas San Francisco can be found online at http://www.sonasdenim.com and in Wonderland SF Boutique (Mission District) & Wild Feather Boutique (Haight Street). Gerry Kelly can be reached at 415-691-9865.