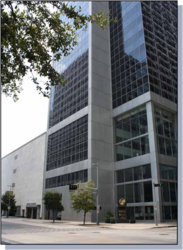 Average occupancy across the entire YPI portfolio increased 120 bps in 2012.
Houston, Texas (PRWEB) March 05, 2013
Younan Properties, Inc., a privately-held, national real estate investment and management company, which owns office buildings in five major U.S. office markets announced it had signed 261,648 square feet of new deals and renewals in its Houston office properties over the past 12 months. Leasing demand was strong in all of the sub-markets in which Younan owns and manages office buildings including the Houston CBD, the Westchase District, and the Greenspoint/Northbelt sub-markets.
According to Zaya Younan, Chairman and CEO of Younan Properties, "Houston recorded a remarkable year of growth at 4.3 million square feet of absorption, which we have not seen since 2006. With strong job growth projected through 2014, the office market will expand concurrently and create further demand for well located office space in key sub-markets. We are trending above our projections for 2013, which currently put us on track to exceed last year's performance."
Younan Square, at 1010 Lamar, signed 85,360 square feet of renewals and new leases with a growing roster of legal services, oil and gas services and energy-related technology companies.
"There is no question Houston's CBD office leasing market will continue to trend upward, with strong leasing demand stemming from tenants evaluating potential expansions, relocations and renewals well in advance of their lease expirations. The shrinking availability of quality space and improving demand drivers has resulted in higher occupancy levels at 1010 Lamar as we inked numerous leases through aggressive leasing and marketing efforts," said Courtney Knightstep, Leasing Manager and Mike Martin, Vice President for PM Realty Group. "Younan Properties supports our leasing efforts with its ongoing capital improvement program and its flexibility in accommodating innovative deal structures," she added.
Other notable deals were signed with National Oilwell Varco at Younan Place; the U.S. Department of Homeland Security at Younan Tower; Advanced International Services at Bridgewood I, and the U.S. Department of Agriculture at Greenbriar Place. Younan Properties owns and manages seven high and mid-rise office properties in the Houston market including Younan Square, Younan Place, Younan Tower, Greenbriar Place, Bridgewood I, Bridgewood II and Younan Plaza.
About Younan Properties
Younan Properties, Inc., is a privately held real estate investment and management company, specializing in acquiring and managing Class A office properties in strong growth markets throughout the United States including Dallas, Houston, Chicago, Los Angeles and Phoenix. The company is recognized for its detailed, hands-on approach to improving operational efficiencies while maintaining top building standards for tenants. Younan's fully-integrated real estate investment company offers in-house expertise and resources in leasing, asset and property management, marketing, acquisitions, redevelopment, facility engineering and financing. http://www.younanproperties.com.