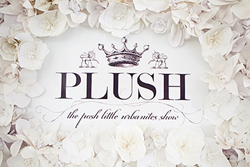 We are excited to work with Jina Park and her commitment to bring style and swagger through various services and products offered at her event are wonderfully embraced. Her continued vision to push the envelope resonates high energy with modern parents.
Los Angeles, CA (PRWEB) March 05, 2013
Jina Park, CEO and Founder of PLUSH is proud to announce her PLUSH Show 2013 service partners Freeman, Map Your Show, Pulso Viral, and ZEDINK. The PLUSH Show is a luxury baby and toddler trade and consumer show upcoming June 7 – 9, 2013 at the Hyatt Regency Plaza, Los Angeles, CA.
PLUSH Show 2013's service partners appreciate Jina Park and her team's continued dedication and innovation to the industry and trade show experiences. They have offered the following expressing their excitement for being a part of this year's show:
"We at Freeman are proud to be selected as a partner by PLUSH: the posh little urbanites show. We are excited to work with Jina Park and her commitment to bring style and swagger through various services and products offered at her event are wonderfully embraced," said Manuel Loayza, Freeman Sales Manager, Exposition Services. "Her continued vision to push the envelope each year resonates high energy with modern parents of today. It is this commitment which Freeman feels confident will compliment Jina's efforts and deliver an event where modern parents will continue to come to and immerse themselves in luxe."
"Map Your Show (MYS) is thrilled to add the 2013 PLUSH show to their list of tradeshow partners. MYS is a premier provider of interactive floor plans and online directory solutions for world's top events," said Don Kline, CEO of Map Your Show. "Attendees at this year's PLUSH will enjoy using our application to research exhibitors and plan their show experience months ahead of their trip to the actual show. Meanwhile, PLUSH's exhibitors will appreciate being able to market to the attendees ahead of the event."
"Jina and the PLUSH team are leading the way! The time and attention they give to selecting only the best products and brands makes PLUSH the premier toddler trade show in the world," said John Rembold, owner of Pulso Viral. "We're excited to be working with such an innovative and dedicated team."
"ZEDINK is thrilled at the opportunity to be working with PLUSH. The energy and true enthusiasm around making this event the best of the best event in today's landscape excites us to no end. We truly want to make PLUSH the MUST attend event of the year in the industry, bringing the PLUSH brand and overall immersive experience to life in June 2013," said Julia Zarro, Principal / Executive Creative Director, ZEDINK. "Thank you PLUSH team for including ZEDINK as part of your team, your true dedication and excitement around the event will deliver nothing but success for this year and beyond."
About Freeman
Freeman is the world's leading provider of integrated services for face-to-face marketing events, including expositions, conventions, corporate events and exhibits. Customer driven, Freeman offers a total package of solutions to our customers, with a scope of products and services unmatched by the competition. By empowering our employees to make educated, strategic decisions Freeman delivers reliable, consistent problem solving solutions that our customers have come to rely on. With 40 offices in North America, Freeman produces more than 3,000 expositions annually, including 107 of the largest 200 U.S. trade shows, and more than 10,000 other events worldwide. The company has received numerous awards recognizing outstanding efforts in industry leadership, customer service excellence, creative design, community service, innovation and customer-driven partnerships.
About Map Your Show
Offering an entire suite of show management software solutions, Map Your Show (MYS) provides everything show managers need to successfully execute their shows. The customizable technology provides total exhibition management software for online, print, onsite, and mobile. Managers have show control, exhibitor show promotion, and attendee show navigation choices presented online. An exhibitor directory and map is all available by hand, on the show floor, as well on mobile devices. Their latest application MYS Networking even offers attendees a chance to network with other attendees and exhibitors before and during the show. MYS currently provides services to more than 200 trade shows, including 30 of the Trade Show Execute Gold 100 Shows.
About Pulso Viral
Pulso Viral is a social media tool for live events. Our system displays attendee posts from Twitter, Instagram, Facebook, and Vine videos. We provide easy to use moderation so you have complete control of the social display and simple analytics which provide real-time feedback. All of this is combined with an ad platform which allows sponsors to insert 1080HD video or images integrated into the social feed.
About ZEDINK
ZEDINK is a world leading experiential marketing agency. ZEDINK creates experiences that will shape perceptions and position brands where they want to be, in the hearts and minds of industries and consumers, taking audiences beyond 2D and 3D and into the 4th dimension of experience based storytelling - a 360º full throttle immersion for your brand. Based in Venice California, we design and produce customized events, environments and experiences. From technology press briefings to consumer events; from product launches to celebrity-driven parties; from television commercials to live international broadcasts. The programs ZEDINK creates and delivers connect audiences to their clients, leaving them with indelible impressions and irresistible memories.
ZEDINK differentiates itself in that, unlike a lot of people, ZEDINK actually loves what they do and like working with each other. ZEDINK are all varied in their skills and life experiences, always united in their passion to bring originality, intelligence, rigor and playfulness to each project in a unique way. ZEDINK's roster of forward-thinking clients trust them to conceptualize, create and deliver engaging programs that convey messaging in entertaining ways for audiences to enjoy, understand and remember, ultimately providing the greatest metric of all: Conversion.
About PLUSH
PLUSH is a baby and toddler trade show dedicated to all the posh and eco-conscious retailers and parents who are continually setting the next big trend. Unlike other juvenile shows in the industry, PLUSH sets itself apart by being one step ahead, and selecting vendors that are worth the time and consideration. Jina Park uses endless research on what today's modern parents are seeking and finds the best, most innovative, eco-friendly, and luxurious products on the market, and places them all in one location for retailers, consumers, and media. PLUSH adds the incredible dimension of entertainment and mainstream media coverage and A-list celebrity marketing opportunities to a juveniles industry show. PLUSH 2012 had The Honest Company's Jessica Alba as their title sponsor, and previous celebrity hosts from 2011-2012 included Catt Sadler, Jason Kennedy, and John Salley.
The upcoming PLUSH 2013 show has now expanded to B2B with an upcoming 3-day trade show June 7th – 9th, 2013 at the Hyatt Regency Century Plaza, located at 2025 Avenue of the Stars, Los Angeles, CA 90067. Registration for PLUSH 2013 is now open, but 10x10 booths are now sold out. For more information: plushshow.com.