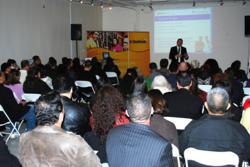 The advice on filing as a corporation in order to avoid risking your personal assets in case of bankruptcy was very helpful.
Los Angeles, CA (PRWEB) March 05, 2013
When in business, it's not wise to look at your competition's success without taking notice of their mistakes as well. This was the type of information that intrigued the Hispanic entrepreneurs that attended the business breakfast presented by Su Socio de Negocios and El Clasificado on February 27th at the company's headquarters in Norwalk, California. During the event, speaker Raul Rodriguez, a business owner and finance expert, explained to the attendees that nearly 90% of business startups fail.
For Rodriguez, the lack of information is the cause of that staggering rate. Because of this, the focus of his lecture was on how to prevent future situations that may take a toll on new businesses.
"The advice on filing as a corporation in order to avoid risking your personal assets in case of bankruptcy was very helpful," said Mauricio Flores, one of the business owners that benefited from the seminar.
Antonio Almazan, one of the event's attendees agreed that "it's important to be protected against future catastrophes. Those are basic points that sometimes go forgotten by us business owners."
During his informative presentation, Rodriguez also insisted that entrepreneurs need a marketing plan of the company and the product or service it provides, stating that, "sometimes business owners don't make themselves clear with potential clients or promote with emphasis what exactly they are selling."
The Su Socio de Negocios event was sponsored by Kaiser and University of Phoenix. The next date is set for April 14, 2013 in Bakersfield.
About Su Socio de Negocios and El Clasificado
"Su Socio de Negocios" is a series of events and expos in Spanish that El Clasificado debuted in 2006. El Clasificado, an EC Hispanic Media, is a multi platform media company that connects connects buyers and sellers in the Hispanic community. The 2013 Su Socio de Negocios calendar of events includes three expos and three breakfast seminars in different cities of California.
The El Clasificado print magazine has a verified weekly circulation of 510,000 that reaches 1.5 million weekly readers and is distributed from Fresno to San Diego and most recently to Yuma, Arizona. EC Hispanic also owns and operates elclasificado.com, which reaches 12.5 million monthly page views and susocodenegocios.com, which offers Hispanic small business owner's information on how to grow their business.
CONTACT: Alicia Garcia de Angela, Director of Communications, mediarelations(at)elclasificado(dot)com • 1-800-450-5852
For marketing or sponsorship opportunities, please contact Hugo Hernandez, Director of Marketing and Events, hugo(dot)hernandez(at)elclasificado(dot)com or at 1-888-204-4591