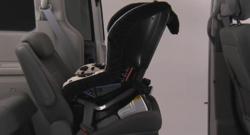 Toronto, Ontario (PRWEB) March 05, 2013
Accidents occur every single day and the risk of being involved in some type of car accident in your life time is extremely high. In fact, car accidents are the leading cause of death among children aged 2 to 14. The main reason for this is the improper use of car seats and seat belts. However, there are other mistakes that drivers make when they have children in the car.
Here is a list of top 7 mistakes that people make when driving with children and how to correct them. Make sure your extra careful when driving with children this March break.
1. Infant Car Seat Use
One of the biggest mistakes that people make when driving with children is not installing the infant car seat properly. When not installed properly, the infant is not secure in the seat and it is very dangerous. There are instruction manuals that come with the car seat that should be read. There are also programs available in most cities that will check the car seat to make sure that it is properly installed in your car. Typically these programs are offered through local police stations and hospitals.
The other issue with infant car seats is that many individuals feel that their child has outgrown the seat far too early and turns the child around to face forward when they are much too young. It is recommended that your child stay rear facing until they are two years old.
2. Booster Seats
A child should remain in a booster seat until they are around 8 years old. Many individuals make the mistake of allowing their child out of the booster seat before they meet the height and weight requirements to do so. Improper seat belt usage is dangerous and is one of the biggest mistakes made by people driving with children in the car.
3. Allowing Children in the Front Seat
Another mistake that individuals driving with children make is letting their child ride in the front seat at a much too early age. The recommended age to let a child sit in the front seat is 12. This is only if the child meets the age and height requirements.
4. Allowing Children to Ride Without Seatbelts
Children should always wear a seatbelt when riding in the car. This goes for adults as well. However, many people allow their children to ride in the backseat without a seatbelt. This is one of the reasons for the high death rate in car accidents involving children.
5. Seats with Airbags
Allowing a child to sit in a seat with an airbag can be extremely dangerous. The reason is that airbags are designed for adults that weigh more than 75 kg. When an airbag is enabled with a child sitting in the seat there is a high risk that the impact could severely injure them or they could suffocate because the airbag is too big for them.
6. Purchasing Car Seats Second Hand
While it may seem like you are getting a great deal on the car seat, buying one second hand is not recommended. The reason for this is that once a car seat reaches a certain age the belts may become loose and the safety of the child in it is at risk. It is important to purchase a car seat that has been approved by either the BS or E, the two standards in place for child seats.
7. Allowing Child to Unbuckle while Car is in Motion
It is important to pay attention to your child when driving. If your child should unbuckle himself, pull over immediately in a safe place and re-buckle them. If this becomes an issue, consider fitting a new buckle in the car that they cannot undo.
About icandrive.ca
icandrive.ca has compiled a list of driving schools in addition to other useful driving resources including G1 practice test, Class 7 Alberta test, Class 7 Practice Test for Saskatchewan and much more, which can help first time and experienced drivers learn how to drive in Canada in an efficient manner with a focus on exactly what you need to know to be a successful, licensed Canadian driver and stay safe on Canadian roads