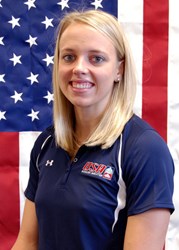 It's incredible how quickly my experience in this sport has evolved, and I am determined to keep moving towards my goal of becoming an Olympian." - Katie Eberling
Los Angeles, CA (PRWEB) March 05, 2013
The Factory Agency, a Southern California based sports and entertainment marketing agency, is excited to announce the signing of U.S. Bobsledder and silver medalist in the 2013 World Championships in St. Moritz, Switzerland, Katie Eberling for marketing representation. Eberling, a former NCAA Western Michigan Volleyball student athlete, made a few quick adjustments and is now on her way to pursuing her dream of making the 2014 Olympic Team.
The 23-year-old from Palos Hills graduated in 2011 from Western Michigan University where she played volleyball. During her junior year, in 2008, Eberling had an NCAA Sweet Sixteen appearance. She holds records for the most matches and sets played and most career kill/dig double doubles. After a successful collegiate Volleyball career, she is now on the fast track to fulfilling her dream of becoming an Olympian at the 2014 Sochi Olympic Winter Games.
Only introduced to the sport in January of 2011 after Eberling received a Facebook message from Elana Meyers suggesting that she tryout for the US National bobsled team. Meyers decided to reach out to Eberling after finding out she was a National Strength and Conditioning Association All-American. During the tryout, Eberling and her partner, Meyers had the fastest start time in all four runs among all 17 teams. "It's incredible how quickly my experience in this sport has evolved, and I am determined to keep moving forward towards my next goal of becoming an Olympian," says Eberling. Most recently, Eberling and partner Meyers took home a silver medal last month in the 2013 World Championship in St. Moritz, Switzerland.
"We are extremely excited for Katie to join the TFA family and we are looking forward to fostering new corporate relationships as an International brand ambassador through endorsements and speaking engagements both on and off the track. With her dominance in the bobsled over the past year, Katie has quickly become a top competitor for the U.S National Bobsled Team," says Managing Partner Jeremy Snyder. "TFA will work to market Katie through endorsements, speaking engagements and personal appearances leading up and through Sochi 2014."
About The Factory Agency
The Factory Agency is a specialized sports and entertainment agency helping their clients develop a holistic brand that connects each phase of their lives to paint a cohesive, lasting image. By focusing on the five pillars of brand development – professional career, philanthropy, business interaction, resources/infrastructure, and public exposure – and tying each component together to reinforce an overarching message, TFA shapes clients' desired brand image and develops a plan to monetize the opportunities through the vast network of corporate, media, and personal relationships. Services and capabilities include: Talent Representation, Contract Negotiation, Marketing, Licensing & Endorsements, Speaking Engagements & Appearances, Event Production & Management, Philanthropic Consulting & Support, Media Production & Development, Corporate Consulting, Sponsorship Sales, and Hospitality & Concierge Services. For more information visit http://www.factory-agency.com.