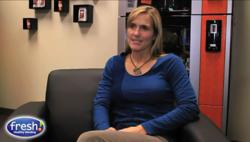 (PRWEB) March 04, 2013
Click Here to view Gwen McCauleys Video
John and Gwen McCauley, regular participants in triathlons and avid cross-fitters had searched for the right franchise for 2 1/2 years before they found Fresh Healthy Vending. The couple had most recently considered Munchies' and a Jimmy Johns' but ultimately chose a 20-machine franchise with Fresh Healthy Vending due to the flexibility, scalability and mission behind the innovative concept.
Gwen was recently in San Diego with 15 other franchisees attending the 2-day training held monthly at Fresh Headquarters where Gwen took some time out to talk about why she chose Fresh Healthy Vending over the many other different business opportunities offered today. Gwen points to many key factors in her and her husband's decision, including; products, locations, overall support, and how the franchise model eliminates any guesswork usually required in setting up a new business.
The active couple have decided that they will take all profits from their healthy vending franchise back in the business, wanting to grow as big as the Houston community will allow.
Please take the time to watch our latest Franchisee discuss Fresh, it's mission, it's approach and it's support.
There has never been a better time to buy a business that makes a positive impact on the health of our community and allows for amazing profit potential. Contact Fresh Healthy Vending today.
For more information on becoming a Fresh Healthy Vending franchisee in your area, please visit our website at http://www.freshvending.com Or call 888-902-7558
And if you're interested in bringing a Fresh Healthy Vending Snack/Drink or Gourmet Coffee Café machine to your community, visit us at http://www.freshandhealthy.org