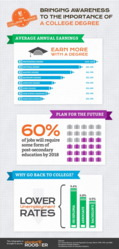 Completing your four-year college degree is critical for individual success in today's economy
Los Angeles, CA (PRWEB) March 06, 2013
EducatedRooster.com, a Los Angeles-based online community that is empowering former students to go back to college, today announced the official launch of The College Pledge.
The College Pledge is call for the public to bring awareness to the importance of a college degree. Associate Director of Business Development for Educated Rooster, Kelly Pappas believes, "completing your four-year college degree is critical for success in today's economy. Higher education makes a person more marketable and gives them more options in life."
The College Pledge is focused on ten main reasons to get students back to college. A college degree drastically improves one's lifetime career earnings. Research has shown that job applicants with degrees are more likely to land higher paying jobs with better health insurance and more vacation days. College graduates have more job options because they acquire more specialized skills, knowledge, and expertise than non-college graduates. A degree is essentially an investment that allows students to reach their goals.
Social ties and network reach are valuable assets in today's society. College is a great opportunity to meet new people and to build connections with people from all over the world. The people one meets in college may be tomorrow's CEOs and leaders.
In addition a degree gives people greater access to occupations and job opportunities. It equips students with specific skills and knowledge that can give them an advantage amongst their peers.
Higher education levels have been proven to lead to better job security. College builds confidence increasing one's knowledge, skill-sets, and experiences. A college degree can help people get hired at a higher level and more quickly rise through the ranks of their new career. Lastly, evidence shows that college graduates tend to be happier and healthier.
Their objective in this initiative is to do everything possible to create a culture of completion. The launch of The College Pledge is a call to the public to get involved in this initiative. Completing college does not have to be complicated.
EducatedRooster.com gives users all the essential resources necessary to help get back on their path to higher education. For more information on Educated Rooster, please visit http://www.EducatedRooster.com
###
About Educated Rooster: (http://www.EducatedRooster.com)
EducatedRooster.com is a community that empowers former students to gain the knowledge, tips and skills necessary to go back to college. Through an interactive community environment, students and mentors across the nation can communicate with one another, read great articles, watch videos and start discussions about everything related to going back to college. EducatedRooster.com is changing the way people go back to college.
For More Information and Press, contact:
Creative Capital Group: http://www.ccg.la
Nasrin Pak
Nasrin(at)ccg(dot)la
(310) 451-2116
About Creative Capital Group: http://www.ccg.la
Creative Capital Group is a full-service digital agency. CCG provides online and mobile design, development and digital marketing solutions for clients focused on innovation within their industries. CCG's solutions combine consumer insights with technology and creativity to provide companies with the resources necessary to grow their business.